World Malaria Day 2023: Theme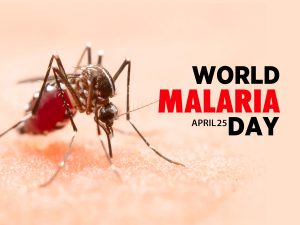 World Malaria Day is observed every year on 25th April.
It was established by the World Health Organization (WHO) in 2007 to raise awareness about malaria.
The theme for World Malaria Day 2023 is "Time to deliver zero malaria: invest, innovate, implement".
Malaria is a life-threatening disease caused by the Plasmodium parasite.
This parasite is transmitted to humans through the bites of infected female Anopheles mosquitoes.
Malaria is most common in tropical and subtropical regions of the world, including sub-Saharan Africa, Southeast Asia, and South America.
Symptoms:

Once inside the human body, the parasites multiply in the liver and then infect red blood cells, causing symptoms such as fever, chills, headache, muscle aches, and fatigue.
In severe cases, malaria can lead to organ failure, coma, and death.

Vaccine:

Till now, no malaria vaccine has shown the benchmark efficacy of 75% set by WHO.
Still, WHO gave a go-ahead for the first malaria vaccine called RTS,S to be rolled out in high transmission African countries understanding the urgency of malaria control and prevention.
It has relatively low efficacy somewhere between 30-40%.