Malabar Exercise 2021: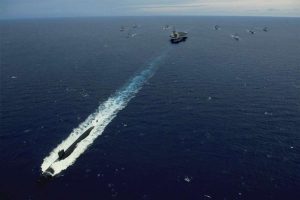 The Navies of the Quad (Quadrilateral Framework) Nations (India, the United States, Japan, and Australia) have participated in the 25th edition of the Malabar Exercise, which began off the coast of Guam in the Pacific Ocean.
Guam is a US island territory in the North Pacific Ocean, which is much closer to China in the East than to the US mainland in the West making it an ideal US military strategic outpost for Indo-Pacific operations.
Malabar Exercise:
It is a multilateral war-gaming naval exercise that was started in 1992. It began as a bilateral exercise between the navies of India and the United States.
Two more editions of the exercise were carried out in 1995 and 1996, after which there was a break until 2002 in the aftermath of India's nuclear tests.
From 2002 onward, the exercise has been conducted every year.
Japan and Australia first participated in 2007, and since 2014, India, the US and Japan have participated in the exercise every year.
In 2020 Australia joined the Malabar Exercise on India's request in order to contain China in the Indo-Pacific region.
For the first time in over a decade, Malabar 2020 saw the participation of all four Quad members.
It is aimed to support free, open and inclusive Indo-Pacific and remain committed to a rules based international order.
Malabar 2021:
This is the first joint maritime exercise within the framework of Quad in the Western Pacific and apparently aims to frighten China. It is being hosted by the US.