Indian Naval Ship Pralaya: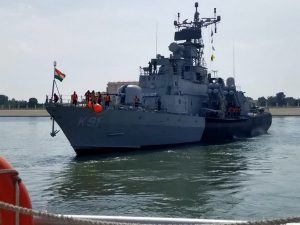 Indian Naval Ship Pralaya arrived at Abu Dhabi, UAE to participate in the NAVDEX 21 (Naval Defence Exhibition) and IDEX 21 (International Defence Exhibition), scheduled from 20 to 25 February 2021.
INS Pralaya, the second ship of the indigenously built Prabal Class Missile Vessels, was commissioned in the Indian Navy on 18 December 2002.
The 56 m longship, displacing about 560 T is capable of speeds in excess of 35 knots and is fitted with an impressive array of weapons and sensors.
These include a 76.2 mm medium range gun, 30 mm close-range guns, chaff launchers and long-range surface to surface missiles.
The ship was built indigenously at Goa Shipyard Limited.