World Sparrow Day: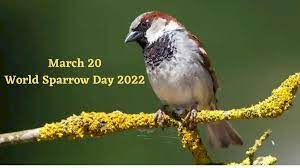 Every year March 20 is observed as World Sparrow Day to raise awareness about the bird.
The first World Sparrow Day was celebrated in 2010 in different parts of the world.
The theme for this year is "Monitor the Sparrows & other common birds".
World Sparrow Day is an initiative of the Nature Forever Society, which is a non-government organisation (NGO) run by Mohammed Dilawar, who's an internationally acclaimed conservationist.
Sparrow is a very social bird and is gregarious at all seasons when feeding, often forming flocks with other types of bird.
House sparrows are becoming extinct everywhere, including in India.
Experts say there's a need to spread awareness on their conservation.