World Tourism Day: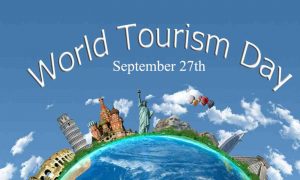 World Tourism Day is celebrated yearly on 27th September around the world, and this year it will be held in Bali, Indonesia.
Theme 2022: Rethinking Tourism.
27th September has been celebrated as World Tourism Day since 1980. This date was chosen to coincide with an important milestone in world tourism: the anniversary of the adoption of the United Nations World Tourism Organization (UNWTO) Statutes in 1970.
The UNWTO is the United Nations specialised agency responsible for the promotion of responsible, sustainable and universally accessible tourism.
The purpose of this day is to increase awareness and motivate people to travel.
Since it believes that tourism helps people all across the world become even more unified and connected
The World Tourism Day highlights the unique role of the tourism sector in preserving cultural and natural heritage all around the world.
It acts as an auxiliary in safeguarding habitat and endangered species.
It addresses the importance of the tourism sector in providing jobs and opportunities, mostly for women and youth, in rural as well as big cities.