World Tribal Day 2022: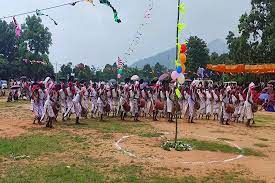 9th August is celebrated as the International Day of the World's Indigenous Peoples.
Aim: To highlight the role of indigenous people and the importance of preserving their rights, communities and knowledge they gathered and passed down over centuries.
Theme: "The Role of Indigenous Women in the Preservation and Transmission of Traditional Knowledge."
In 1994, the UNGA, passed a resolution, declaring August 9 as the International Day of the World's Indigenous People as it was on 9th August that the UN Working Group on Indigenous Populations held its first meeting.
Taking cognisance of the knowledge acquired by indigenous people is vital culturally and also scientifically
Understanding and preservation of indigenous languages, their spiritual practices, and philosophies can help in the conservation and upliftment of Tribals without compromising their identity.
Status of Tribes in India: Tribal Population constitutes 8.6% (or 11 cr) of the total population (the second largest number of tribal people in any country in the world). 89.97% of them live in rural areas and 10.03% in urban areas.
According to Lokur Committee (1965), the essential characteristics to be recognized by Scheduled Tribe are: Indication of Primitive Traits, Distinctive Culture, Shyness of Contact with the Community at Large, Geographical Isolation, Backwardness
Constitution of India does not define the term 'tribe', however, the term Scheduled Tribe' was inserted in the Constitution through Article 342 (i).