Third G20 Sherpas Meet: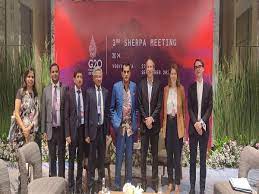 The third Sherpas meeting under India's G20 Presidency began in Hampi, Karnataka recently.
A Sherpa is a personal representative of the leader of a member country at an international Summit meeting such as the G20.
The Sherpa engages in planning, negotiation and implementation tasks through the Summit.
They coordinate the agenda, seek consensus at the highest political levels, and participate in a series of pre-Summit consultations to help negotiate their leaders' positions.
Sherpas are career diplomats or senior government officials appointed by the leaders of their countries.
There is only one Sherpa per Summit for each member country; he/she is assisted by several sous Sherpas.
G20 Sherpa Meeting under India's G20 Presidency:
The former CEO of NITI Aayog, Amitabh Kant is the G20 Sherpa from India.
The 1st Sherpa Meeting of India's G20 Presidency was held on 04 December 2022, in Udaipur Rajasthan.
The Second G20 Sherpas meeting under India's G20 Presidency, chaired by India's G20 Sherpa Shri Amitabh Kant took place in the picturesque village of Kumarakom, Kerala, from March 30 to April 2, 2023.