Ceasefire Between Israel And Palestine: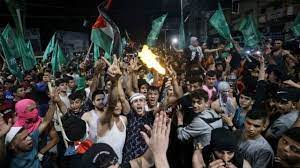 After three days of violence between Israel and Palestine, which resulted in killing of dozens of populations in both the countries, a ceasefire took place recently.
Earlier this year as well, tensions flared up at Jerusalem's al-Aqsa Mosque between the Palestinians and Israeli police.
These recurring clashes are part of the ongoing Israeli–Palestinian conflict.
Reason for Conflict:
Israeli aircraft  targets (Islamic Jihad Leaders) in Gaza.
In response, Iran-backed Palestinian Jihad militant group fired hundreds of rockets at Israel.
Islamic Jihad has fewer fighters and supporters than Hamas.
Israel launched its operation with a strike on a leader of the Islamic Jihad, and followed up on with another targeted strike on a second prominent leader.
As per the Israeli army, militants in Gaza fired about 580 rockets toward Israel.
Israel had intercepted many of them, with two of those shot down being fired toward Jerusalem.
The U.N. Security Council scheduled an emergency meeting on the violence.
China, which holds the council presidency for August 2022, scheduled the session in response to a request from the United
Arab Emirates, which represents Arab nations on the council, as well as China, France, Ireland and Norway.