World's First Portable Disaster Hospital: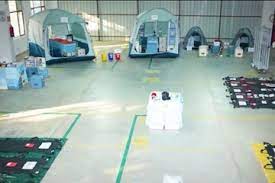 India has built the world's first portable disaster hospital, called the "Aarogya Maitri Cube".
The hospital can be airlifted and assembled into 72 cubes that contain essential medical equipment and supplies.
The cubes can support 200 survivors for 48 hours during natural disasters or crises.
It has been developed indigenously under the Project BHISHM(Bharat Health Initiative for Sahyog Hita and Maitri).
The hospital includes Operation theatres, mini-ICUs, Ventilators, Blood test equipment, an X-ray machine, a Cooking station, Food, Water, a Shelter, Power generator.
The "Aarogya Maitri Cube" is part of "Aarogya Maitri" project.
The project aims to provide essential medical supplies to any developing country affected by natural disasters or humanitarian crises.