Worst Forest Fires In Odisha: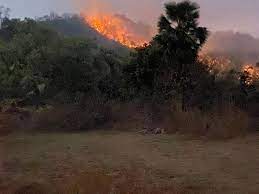 Forest fires continue to rage in Odisha after the state recorded 642 large fire incidents from March 2-9, 2023 the highest in the country during the period, according to the Forest Survey of India (FSI) data.
The eastern state recorded 96 major fires in different jungles also highest in the country.
From all the other states combined, 189 active fire incidents were reported the same day, according to FSI.
Odisha has recorded 871 large forest fires since November 1, 2022, the beginning of the forest fire seasons.
This is also a national record for the season, official data showed. It was followed by Andhra Pradesh (754), Karnataka (642), Telangana(447) and Madhya Pradesh (316).
Some of the fires may have also been caused by human-made reasons, the expert added.
The tribal people set fire on forests for shifting cultivation, collection of mahua flowers and kendu leaves, he noted.
Forest fires result in the loss of timber, fruit-bearing trees and medicinal plants.
They also pose a threat to the wildlife and their habitat areas, said Biswajit Mohanty, former member of the National Board for Wildlife.