Forest Fires: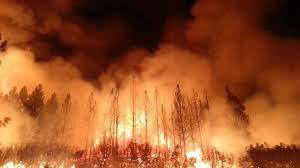 In France, Greece, Portugal and Spain, wildfire destroys thousands of hectares of land, forces thousands from their homes and kills several emergency personnel.
A wildfire is a major fire that breaks out unpredictably in combustible environments such as dry forests or bush and often burns uncontrollably over a large area and length of time.
A forest fire can be triggered by natural factors such as prolonged hot, dry weather or lightning strikes, or human carelessness.
Heatwaves have become more frequent, more intense, and last longer because of human-induced climate change.
The world has already warmed by about 1.1C since the industrial era began and temperatures will keep rising unless governments around the world make steep cuts to carbon emissions.
As per the Global Forest Watch, forest fires in India have increased by 125% (between 2015 and 2017).
At a global level as well, the world is undergoing through wildfire crisis, with reports of wildfires in Siberia, the Amazon basin, Pantanal wetland (South America), Australia, and the rainforest of Indonesia.