Virtual Summit On The Voice Of The Global South: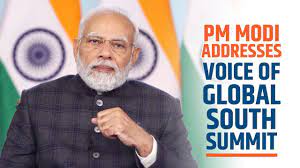 The Prime Minister of India organised a virtual summit on the "Voice of the Global South", involving approximately 125 countries.
The objective of this summit was to solicit the opinions and input of countries from the Global South in order to determine the priorities for the region.
The term "Global South" is often used to highlight the historical legacy of colonialism and the economic disparities between the formerly colonised nations and the developed Western nations.
It underscores the challenges faced by these countries in achieving economic growth and development.
In 1964, the Group of 77 (G-77) countries came into existence when they signed a Joint Declaration during the first session of the UN Conference on Trade and Development (UNCTAD) in Geneva.
The G-77 became the largest intergovernmental organisation of developing countries at the time.
It was created to promote the economic interests of developing countries and improve their ability to negotiate on international economic issues within the UN system.
It now includes 134 countries across Asia, Africa, South America, the Caribbean and Oceania. China is not technically part of the group, hence, the grouping is often referred to as "G-77+China" in multilateral forums.
The UN Office for South-South Cooperation (UNOSSC) was established in 1974.
Its role is to coordinate cooperation between countries in the Global South and with developed countries or multilateral agencies, in collaboration with the G-77.
The Global South, comprising countries with significant populations, recognises that they have the most at stake in shaping the future of the world.
With three-fourths of the global population residing in these countries, they argue that they should have a proportionate and meaningful voice in global decision-making processes.
Global South demands an equitable representation in global governance.
The current model of global governance may not adequately reflect the demographic and economic realities of the world, and there is a call for change to ensure that the voices of the Global South are heard and considered.