Young Professionals Scheme: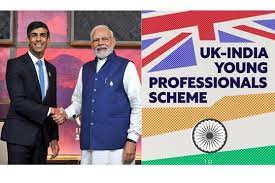 India and the United Kingdom signed and exchanged letters for Young Professionals Scheme in London.
Young Professionals Scheme:
It was conceived as part of an India-U.K. Migration and Mobility MoU signed in May 2021 and was announced in November at the G20 summit in Bali.
It will permit up to 3,000 of their degree-holding citizens aged between 18 and 30 to live and work in each other's countries for two years.
The programme will be reciprocal, also allowing UK professionals in the same position to participate in a professional exchange by living and working in India.
This scheme makes India the first visa-national country to benefit from the scheme.