National Science Day 2023 : Theme Released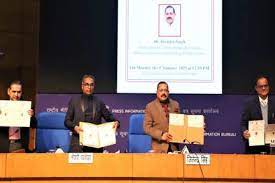 The Union Minister of Science and Technology released the Theme of National Science Day 2023 at a function in New Delhi.
The theme of National Science Day 2023 will be Global Science for Global Wellbeing.
The government of India designated 28 February as National Science Day (NSD) in 1986.
On this day Sir C.V. Raman announced the discovery of the 'Raman Effect' for which he was awarded the Nobel Prize in 1930.
Raman Effect is a change in the wavelength of light that occurs when a light beam is deflected by molecules.
When a beam of light traverses a dust-free, transparent sample of a chemical compound, a small fraction of the light emerges in directions other than that of the incident (incoming) beam.