LEAP AHEAD Initiative: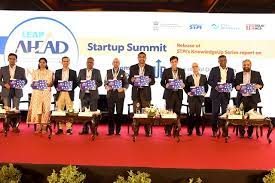 The Ministry of Electronics & Information Technology (MeitY) launched the LEAP AHEAD initiative, a collaborative effort between the Software Technology Parks of India (STPI) and The Indus Entrepreneurs (TiE) Delhi-NCR, aimed at supporting and accelerating the success of tech startups in India.
Launchpad for Tech Entrepreneurs towards Accelerated Growth and Pioneering AHEAD (LEAP AHEAD) aims to support tech startups by offering them access to funding (up to ₹1 Crore), mentorship and global connections.
Start-ups are companies in their early stages of operation, founded by entrepreneurs aiming to meet demand with innovative products or services.
India has become the 3rd largest start-up ecosystem in the world after the US and China. India is home to as many as 75,000 Startups.
Global Innovation Index: India has moved up from 81st (2015) to 46thin 2021 among 130 economies of the world.