Daily Current Affairs for Government Exams:
Today Current Affairs:13th May 2020 for UPSC IAS exams, State PSC exams, SSC CGL, State SSC, RRB, Railways, Banking Exam & IBPS, etc
Contents:
Jharkhand's Sohrai Khovar painting and Telangana's Telia Rumal were given the Geographical Indication (GI) tag :
Global Nutrition Report
'Atma-Nirbhar Bharat' or self-reliant India
Dealing with energy needs in the Context of Climate Crisis:
Enzyme ACE2
The India State-Level Disease Burden Initiative
Other important current affairs
1. Jharkhand's Sohrai Khovar painting and Telangana's Telia Rumal were given the Geographical Indication (GI) tag :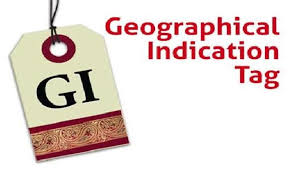 Jharkhand's Sohrai Khovar painting and Telangana's Telia Rumal were given the Geographical Indication (GI) tag by the Geographical Indications Registry headquartered in Chennai.
Sohrai Khovar painting: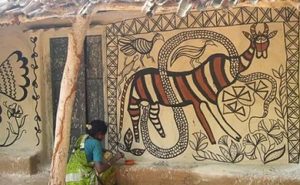 The Sohrai Khovar painting is a traditional and ritualistic mural art being practiced by local tribal women during local harvest and marriage seasons using local, naturally available soils of different colors in the area of Hazaribagh district of Jharkhand.
The Sohrai Khovar painting is primarily being practiced only in the district of Hazaribagh.
However, in recent years, for promotional purposes, it has been seen in other parts of Jharkhand.
Traditionally painted on the walls of mud houses, they are now seen on other surfaces, too.
The style features a profusion of lines, dots, animal figures, and plants, often representing religious iconography.
Telia Rumal: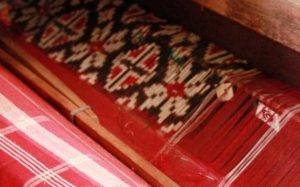 Telia Rumal cloth of Telangana involves intricate handmade work with cotton loom displaying a variety of designs and motifs in three particular colors red, black and white.
Telia Rumal can only be created using the traditional handloom process and not by any other mechanical means as otherwise, the very quality of the Rumal would be lost.
Telia Rumals are offered at the dargah of Ajmer Sharif in Rajasthan, with some devotees offering 50 or even 100 cloths.
Telia Rumals were worn as a veil by princesses at the erstwhile court of the Nizam of Hyderabad, and as a turban cloth by Arabs in the Middle East.
2.Global Nutrition Report: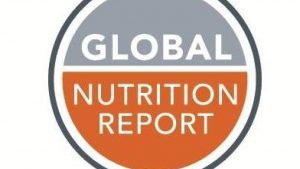 Global Nutrition Report 2020 has been released.
The Global Nutrition Report was conceived following the first Nutrition for Growth Initiative Summit (N4G) in 2013 as a mechanism for tracking the commitments made by 100 stakeholders spanning governments, aid donors, civil society, the UN, and businesses.
India is among 88 countries that are likely to miss global nutrition targets by 2025. India is also the country with the highest rates of domestic inequalities in malnutrition.
India is identified as among the three worst countries, along with Nigeria and Indonesia, for steep within-country disparities on stunting, where the levels varied four-fold across communities.
India will miss targets for all four nutritional indicators for which there is data available, i.e. stunting among under-5 children, anemia among women of reproductive age, childhood overweight, and exclusive breastfeeding.
Underweight in India: Between 2000 and 2016, rates of underweight have decreased from 66.0% to 58.1% for boys and 54.2% to 50.1% in girls. However, this is still high compared to the average of 35.6% for boys and 31.8% for girls in Asia.
Stunted and wasted:9% of children under 5 years are stunted and 20.8% are wasted, compared to the Asia average of 22.7% and 9.4% respectively.
Anemia: One in two women of reproductive age is anemic, while at the same time the rate of overweight and obesity continues to rise, affecting almost a fifth of the adults, at 21.6% of women and 17.8% of men.
Global Nutrition Report
The Global Nutrition Report was conceived following the first Nutrition for Growth Initiative Summit (N4G) in 2013.
The first report was published in 2014.
It acts as a report card on the world's nutrition globally, regionally, and country by country and on efforts to improve it.
It is a multi-stakeholder initiative, consisting of a Stakeholder Group, Independent Expert Group, and Report Secretariat.
3. 'Atma-Nirbhar Bharat' or self-reliant India: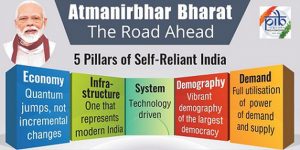 Prime Minister Narendra Modi has announced a special economic package worth 20 lakh crore rupees for an 'Atma-Nirbhar Bharat' or self-reliant India, saying that self-reliance is the only way to ensure that 21st Century belongs to India.
The Prime Minister noted that this package, together with earlier announcements by the government during COVID crisis and decisions taken by RBI, is to the tune of 20 lakh crore rupees. This is equivalent to almost 10 percent of India's GDP.
The package will also focus on land, labor, liquidity, and laws.
It will cater to various sections including the cottage industry, MSMEs, laborers, middle class, industries, among others.
He said India's self-reliance will be based on five pillars – economy, infrastructure, technology-driven system, vibrant demography, and demand.
4.'Dealing with energy needs in the Context of Climate Crisis: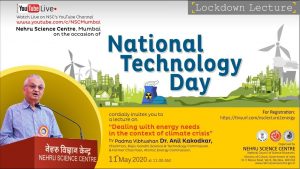 On the occasion of the National Technology Day, Padma Vibhushan Dr. Anil Kakodkar conveyed a message to the people of India about 'Dealing with energy needs in the Context of Climate Crisis'.
Key Points
HDI and Energy Consumption:

Dr. Kakodkar highlighted the correlation between the Human Development Index (HDI) and Per Capita Energy Consumption all over the world.
As per the statistics, countries with higher HDI have higher per capita consumption of energy.
HDI emphasizes that people and their capabilities should be the ultimate criteria for assessing the development of a country, not economic growth alone.

Energy and Climate Security:

However, developing countries like India, on the other hand, face the challenge of choosing between energy security and climate security.
It is important to strike a balance between enhancing the quality of human life as well as keeping control over the climate crisis.

Emission Targets:

Various studies have been conducted on how to control carbon dioxide (CO2) emissions, which is a serious threat to the environment.
As per the report of the Intergovernmental Panel on Climate Change (IPCC), "staying below 1.5-degree increase in 2100 will require cuts in Greenhouse Gases (GHGs) emissions of 45% below 2010 levels by 2030 and to net-zero by 2050".

Decarbonization:

Zero-emission targets can be easily met by the use of nuclear energy. It can also reduce the cost of deep decolonization.
Decarbonising means reducing carbon intensity, i.e. reducing the emissions per unit of electricity generated (often given in grams of carbon dioxide per kilowatt-hour).
Decarbonization is essential since the demand for electric power from industries/commercial sectors is high.
It is possible by increasing the share of low-carbon energy sources, particularly renewables like solar, hydro, and biomass (Biofuels) together with nuclear which can greatly contribute to achieving zero emissions.
5.Enzyme ACE2 :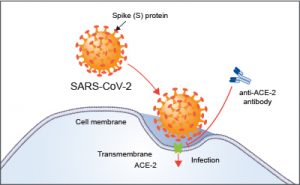 A new study has suggested reasons why men seem to be more vulnerable to Covid-19 than women
The role of enzyme ACE2 in Covid-19 is: It responds to the novel coronavirus and enables it to infect the human cell.
The new, large study of several thousand patients found men have higher concentrations of ACE2 in their blood than women.
The researchers measured ACE2 concentrations in blood samples from several thousand heart failure patients from 11 European countries.
The study also found that heart failure patients taking a certain class of drugs (called RAAS inhibitors) did not have higher concentrations of ACE2 in their blood.
Some recent research had suggested that RAAS inhibitors might increase ACE2 concentrations in blood plasma, thereby increasing the risk of Covid-19 for cardiovascular patients taking these drugs, but the new study indicates that this is not the case.
6.The India State-Level Disease Burden Initiative: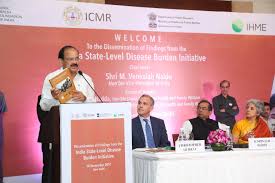 The India State-Level Disease Burden Initiative has recently published two scientific papers. The initiative has given its report on district-level trends of child growth and child mortality.
The child mortality rate has dropped by 49% between 2000 and 2017.
According to the report, though child mortality and child growth has improved, the inequality between the districts is high
The inequality among states between the period has grown by 6 times and among the districts in a state has grown by 11 times.
The report says that there were around 1.04 million under-5 deaths in 2017. This has decreased from 2.24 million in 2000.
Also, neonatal deaths decreased from 1.02 million to 0.57 million in 2017.
Though the Neonatal Mortality Rate dropped by 38% since 2000, the variation has increased 5 times. 83% of the neonatal deaths in the country is due to short gestation and low birth weight.
According to the report, 46% of the child in India are with short gestation, 21% are with child growth failure.
Causes of Under-5 deaths
The main causes of under-5 deaths according to the report are diarrheal diseases, preterm birth, lower respiratory infections, and birth asphyxia. Of all, lower birth weight was the major cause
India State-Level Disease Burden Initiative
The initiative was launched under the collaboration of ICMR (Indian Council of Medical Research) and the Public Health Foundation of India (PHFI).
The initiative has experts and stakeholders that are associated with 100s of Institutions.
Other important current affairs:
1. The Gujarat High Court has set aside the election of a BJP leader in 2017 on grounds of "corrupt practice" and "manipulation of record".
The order passed on a petition, filed by the opposing Congress candidate, alleged that the returning officer had illegally rejected 429 votes received via postal ballot.
The Court held an election as void under Section 100(1)(d)(iv) of the Representation of the People Act, 1951.
The observation gains relevance since the number of rejected votes (429) was more than the victory margin (327).
The judgment also held that the instructions of the Election Commission were not followed, giving an unfair advantage to the winning candidate and thus materially affecting the election.
2. Recently, the Ministry of Electronics and Information Technology (MeitY) has issued 'Aarogya Setu Data Access and Knowledge Sharing Protocol, 2020' laying down guidelines for sharing such data with government agencies and third parties amid Covid-19 pandemic.
The executive order issued came amid concerns and privacy issues expressed by a number of experts over the efficacy and safety of the app.
The issued Protocol intends to ensure that data collected from the app is gathered, processed, and shared in an appropriate way.
The violation of the protocol will lead to penalties under the Disaster Management Act, 2005.
MeitY is designated as the agency responsible for the implementation of this Protocol.
Further, the app's developer, National Informatics Centre (NIC) shall be responsible for the collection, processing, and managing response data collected by the Aarogya Setu app under this Protocol.
Further, it also calls for the Empowered Group on Technology and Data Management to review the protocol after six months; unless extended. It will be in force only for six months from the date of its issue.
Empowered Group of Ministers (EGoM) is a Group of Ministers (GoM) of the Union Government appointed by the Cabinet or the Prime Minister for investigating and reporting on such matters as may be specified.
These EGoMs are also authorized to take decisions in such matters after investigation.
3. Indian Council of Medical Research, ICMR, and National Centre for Disease Control are going to initiate a population-based serosurvey in selected districts to monitor the trend in the prevalence of COVID-19 infection at the district level.
A serosurvey involves testing of blood serum of a group of individuals and this will be used to monitor trends in the prevalence of the novel coronavirus, or SARS-COV-2, infection at the district level.
The agencies will use a combination of RT-PCR and Elisa antibody kits for these surveys.
Facility-oriented surveillance is an expansion of the testing of flu and serious respiratory cases in hospitals being carried out by the government.
The surveillance will be conducted by the Indian Council of Medical Research and the National Centre for Disease Control in collaboration with key stakeholders and state health departments.
4. CHAMPIONS portal:
Launched by the Union Ministry of MSME.
It is a Technology driven Control Room-Cum-Management Information System.
CHAMPIONS stands for Creation and Harmonious Application of Modern Processes for Increasing the Output and National Strength.
It utilizes modern ICT tools such as telephone, internet, and video conference, and aims to assist Indian MSMEs to march into the big league as National and Global CHAMPIONS.
It aims to make the smaller units big by providing them various facilities such as solving their grievances, encouraging, supporting, helping, and hand-holding.
5. According to the Energy Efficiency Services Limited (EESL), the Smart Metering Programme (SMP) is helping electricity distribution companies (discoms) generate 95% of billing efficiency during the lockdown.
The discoms using smart meters have seen a 15-20% average increase in monthly revenue per consumer.
EESL, a Public Sector Undertaking (PSU) under the Ministry of Power, Government of India, is the designated agency to implement the smart metering program in India.
Smart Meter National Programme:

It is being implemented to deploy smart meters across the country.
Under this program, a total of 12,06,435 smart meters have been installed to date to enhance consumer convenience and rationalize electricity consumption.
​Smart Meters – Advanced meter devices having the capacity to collect information about energy, water, and gas usage at various intervals and transmitting the data through fixed communication networks to utility, as well as receiving information like pricing signals from utility and conveying it to consumers.
Innovation: With electricity demand expected to rise by 79 % in the next 10 years, India is on a path of transforming its energy mix with innovation.
6. The Government of India had earlier launched Pradhan Mantri Garib Kalyan Yojana. Under which Rs 1.7 lakh crore was allocated.
The LockDown 4.0 that is to be launched on May 18, 2020, will operate under Atma Nirbhar Bharat Abhiyan.
Under the new scheme, the Finance Minister Nirmala Sitaraman announced 15 different measures. Of these,
Six measures are for the MSMEs
Two for Employment Provident Funds
Two for NBFCs (Non-Banking Financial corporation)
Two for MFIs (Micro Finance Institutions)
One to real estate
One for DISCOMs
Three related to Tax
One for the Contractors
7. The Jal Jeevan Mission aims to provide drinking water to every household. It aims to provide tap connections to every rural household. With the COVID-19 crisis at its peak, the central government is to implement the mission based on a priority basis.
The Central Government has advised the state governments to take up the mission to achieve twin objectives.
This includes providing tap water connections to every rural household and also creating job opportunities for local people and migrants.
Based on these orders, the Jammu and Kashmir administration and Haryana Government have framed a plan to implement the mission by 2022
8. According to the study conducted by the Centre for Research on Energy and Clean Air (CREA), the Carbon dioxide Emissions in India has declined the least in four decades.
The study says that carbon dioxide emissions in India have reduced by 15% in March and by 30% in April.
The study also says that the latest consumption of oil and gas, coal has declined.
It has fallen by 30 million tonnes in 2019-20 in the country as compared to that of the previous year.
9. The Council of Scientific and Industrial Research (CSIR) NAL (National Aerospace Laboratories), Bengaluru has developed a ventilator called "Swasthvayu". The ventilator has been designed in a record time of 36 days.
The ventilator developed by CSIR is a Non-Invasive BiPAP Ventilator.
The ventilator is made of the built-in biocompatible coupler and a high-efficiency filter.
These features make the ventilator help reduce the fear against COVID-19.
10. The Madhya Pradesh Government has launched "FIR Aapke Dwar Yojana".
The scheme has been launched in 23 police stations as a pilot project. This includes both rural and urban areas.
Under the scheme, a person need not go to the police station to lodge a complaint.
The scheme has deployed the head constables to register the complaints from the people.
The scheme will also enable spot FIR registrations.
When the complaints are serious, they will be forwarded to senior officers.
Along with the scheme, the Home Minister of the State also launched a helpline, "Dial 112".
This will provide instant ambulance services, fire fighting services, and also will enable to contact of the police within a short period of time.
Madhya Pradesh is the first state in the country to launch such an innovative scheme on police subjects.
It is to be noted that Police is State subject.
The scheme was launched by the Home Minister of MP Sr Narottam Mishra.
Need Monthly Current Affairs PDF?
Get everything on your phone with our all in one app for your UPSC Preparation.
Get daily current affairs on you phone
Download monthly current affairs PDF
All India daily mock tests with ranking