Today Current Affairs: 23rd April 2021 for UPSC IAS exams, State PSC exams, SSC CGL, State SSC, RRB, Railways, Banking Exam & IBPS, etc
Madhu Kranti Portal & Honey Corners: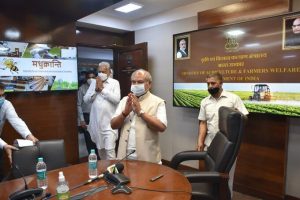 The Union Minister for Agriculture and Farmers' Welfare has launched "Madhu Kranti Portal & Honey Corners.
Madhu Kranti Portal:
It is an initiative of the National Bee Board (NBB), Ministry of Agriculture and Farmers Welfare under the National Beekeeping &Honey Mission (NBHM).
This portal is being developed for online registration to achieve a traceability source of Honey and other beehive products on a digital platform.
The platform will help in checking the quality and source of adulteration of honey.
The portal will help in increasing the income of the farmers, boost exports and increase employment generation.
The portal will hold the database of all the stakeholders involved in honey production, marketing chains, hive production, and sales.
It will increase the reach of honey to international markets.
Honey Corners:
Honey Corners are special spaces for the marketing and sale of honey.
It is operated by the National Agricultural Cooperative Marketing Federation of India Ltd (NAFED).
India's Crude Oil Production And Natural Gas Output Declined: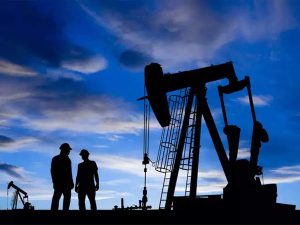 According to the latest government data India's crude oil production and natural gas output declined in the Financial Year (FY) 2020-2021.
India's crude oil and natural gas production have been falling consistently since 2011-12.
Decline in Production:
Crude Oil Production:

Declined by 5.2% as private and public firms produced 30.5 million tonnes in 2020-21 compared to 32.17 million tonnes produced during the same period in 2019-2020.

Natural Gas Production:

Declined by 8.1% and in 2020-21 only 28.67 billion cubic meters was produced compared to 31.18 billion cubic meters in 2019-20.
Reason for Decline:
Most of India's crude oil and natural gas production comes from ageing wells that have become less productive over time.
There is no more easy oil and gas available in India and that producers would have to invest in extracting oil and gas using technologically intensive means from more difficult fields such as ultra deepwater fields.
Crude oil production in India is dominated by two major state-owned exploration and production companies, Oil and Natural Gas Corporation Limited (ONGC) and Oil India.
These companies are the key bidders for hydrocarbon blocks in auctions and were the only successful bidders in the fifth and latest round of auctions under the Open Acreage Licensing Policy (OALP) regime with ONGC bagging seven of the eleven oil and gas blocks on offer and Oil India acquiring rights for the other four.
India's efforts to attract foreign energy giants into hydrocarbon exploration and production haven't been quite fruitful.
The government has asked ONGC to boost its investments in explorations and increase tie-ups with foreign players to provide technological support in extracting oil and gas from difficult oil and gas fields.
The government is also reaching out to major foreign players to convey that the current system of auction and regulation is much more "open and transparent" than before.
Mounting pressure due to climate change is prompting oil and gas players to diversify into clean energy.
KRI Nanggala: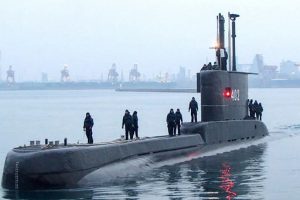 The Indian Navy dispatched its deep submergence rescue vessel (DSRV) from Visakhapatnam to support the Indonesian Navy in the search and rescue efforts for its submarine KRI Nanggala that went missing with 53 personnel aboard.
KRI Nanggala (402) is a diesel-electric attack submarine of the Indonesian Navy, one of two Cakra-class submarines (Type 209 design).
On 21 April 2021, it went missing in deep waters during a SUT torpedo drill north of Bali.
The boat is named after the Nanggala, a divine and powerful short spear that was owned by Prabu Baladewa (the elder brother of Kresna), a recurring character in the wayang puppet theatre.
India is amongst the few countries in the world capable of undertaking the search and rescue of a disabled submarine through a DSRV.
Indian Navy's DSRV system can locate a submarine up to 1,000-metre depth utilizing its state-of-the-art side-scan sonar and remotely operated vehicle.
After the submarine is successfully located, another sub-module of DSRV — the submarine rescue vehicle (SRV) — links with the submarine to rescue the trapped personnel. The SRV can also be used to provide emergency supplies to the submarine.
Vanita Gupta: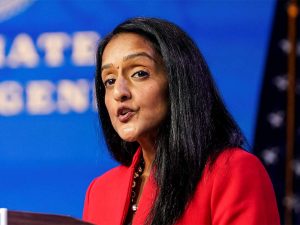 Civil rights lawyer Vanita Gupta made history, when the United States Senate voted to confirm her as Associate Attorney General, making her the first Indian American to serve as the US Justice Department's third-highest ranking official.
Vanita Gupta (born 1974) is an American civil rights attorney.
She is the president and chief executive officer of the Leadership Conference on Civil and Human Rights.
From 2014 to 2017, she served as the principal deputy assistant attorney general and head of the Civil Rights Division at the U.S. Department of Justice, where she was the chief civil rights prosecutor for the United States.
Formerly, she was a civil rights lawyer and the deputy legal director of the American Civil Liberties Union, where she oversaw its national criminal justice reform efforts.
On January 7, 2021, President Joe Biden nominated Gupta to serve as Associate Attorney General. She was confirmed by the Senate on April 21, 2021.
Brucellosis: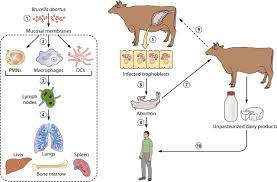 Kerala launched preventive measures after a few cases of brucellosis, a zoonotic infection, have been detected in some dairy animals.
Earlier in September 2020 Brucella abortus S19Δ per vaccine" was developed by the Indian Council of Agricultural Research's -Indian Veterinary Research Institute (ICAR-IVRI) for brucellosis prevention in the dairy sector.
Zoonotic Diseases:
It is a disease that passes into the human population from an animal source directly or through an intermediary species.
Zoonotic infections can be bacterial, viral, or parasitic in nature, with animals playing a vital role in maintaining such infections.
Examples of zoonoses include HIV-AIDS, Ebola, Malaria, and the current Covid-19 disease.
Brucellosis:
It is a bacterial disease caused by various Brucella species, which mainly infect cattle, swine, goats, sheep and dogs.
It is also known as Malta fever or Mediterranean fever.
Brucellosis is endemic in India causing huge economic losses to dairy industry due to:

Infertility
Abortion
Birth of weak off springs
Reduced productivity
Infection to Humans:

Infection:

Brucellosis has infected over 3000 people in China.

Humans generally acquire the disease through:

Direct contact with infected animals.
Eating, drinking contaminated animal products, unpasteurized milk.
Inhaling airborne agents.

The US Centers for Disease Control and Prevention states that person-to-person transmission of brucellosis is "extremely rare" but some symptoms may reoccur or never go away.
Symptoms: Fever, sweats, malaise, anorexia (psychological disorder in which one eats less due to fear of weight gain), headache and muscle pain.
Treatment and prevention:

It is usually treated with antibiotics, including rifampin and doxycycline.
Avoiding unpasteurized dairy products and taking safety precautions such as wearing rubber gloves, gowns or aprons, when handling animals or working in a laboratory can help prevent or reduce the risk of getting brucellosis.
Other preventive measures include cooking meat properly, vaccinating domestic animals, etc.
AIM-PRIME:

The Atal Innovation Mission (AIM), NITI Aayog launched AIM-PRIME (Program for Researchers on Innovations, Market-Readiness & Entrepreneurship).
Atal Innovation Mission:
AIM is the Government of India's flagship initiative to promote a culture of innovation and entrepreneurship in the country.
Objective: To develop new programs and policies for fostering innovation in different sectors of the economy, provide platform and collaboration opportunities for different stakeholders, create awareness and create an umbrella structure to oversee the innovation ecosystem of the country.
AIM's initiatives have played an important contributory role in the advancement of India from a position of 81 in the Global Innovation Index in 2015 to a position of 48 in 2020.
Aim:

Promoting science-based, deep technology ideas to market through training and guidance over a period of 12 months.
Deep technology is based on tangible engineering innovation or scientific advances and discoveries. Deep Tech is often set apart by its profound enabling power, the differentiation it can create, and its potential to catalyze change.

Focus Area: Science-based, knowledge-intensive, deep technology entrepreneurship.
Launching & Implementing Agency:

AIM has collaborated with Bill & Melinda Gates Foundation (BMGF) to launch this nationwide program which will be implemented by Venture Centre – a non-profit technology business incubator hosted by the Council Of Scientific And Industrial Research–National Chemical Laboratory (CSIR-NCL).

Beneficiaries:

Technology developers (early-stage deep tech start-ups, and scientists/ engineers/clinicians) with strong science-based deep tech business ideas.
Chief Executive Officers and Senior incubation managers of AIM Funded Atal Incubation Centers that are supporting deep tech entrepreneurs.
Armenian Genocide: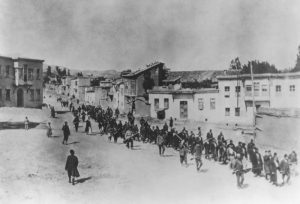 US President Joe Biden is preparing to formally acknowledge the Armenian Genocide.
Every year, Armenian Genocide Remembrance Day will be marked on April 24.
Armenian Genocide:
The Armenian Genocide is often called the first genocide of the twentieth century. It refers to the systematic annihilation of Armenians living in the Ottoman Empire between 1915 to 1917.
According to estimates, approximately 1.5 million Armenians died during the genocide, either in massacres and in killings, or from ill treatment, abuse and starvation.
The Armenian diaspora marks April 24 as Armenian Genocide Remembrance Day.
While Turkey disagrees, the consensus among historians is that during the Armenian Genocide, between 1915 to 1922, in the First World War, thousands of Armenians perished due to killings, starvation and disease, when they were deported by Ottoman Turks from eastern Anatolia.
The International Association of Genocide Scholars estimates that more than 1 million Armenians may have died.
Researchers say that the acknowledgement by the US government would have little legal impact on Turkey, other than becoming a cause for embarrassment for the country and perhaps giving other countries the impetus to also acknowledge the genocide.