Madhu Kranti Portal & Honey Corners: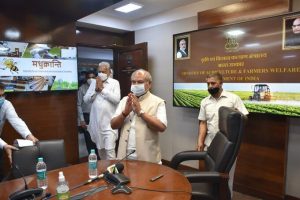 The Union Minister for Agriculture and Farmers' Welfare has launched "Madhu Kranti Portal & Honey Corners.
Madhu Kranti Portal:
It is an initiative of the National Bee Board (NBB), Ministry of Agriculture and Farmers Welfare under the National Beekeeping &Honey Mission (NBHM).
This portal is being developed for online registration to achieve a traceability source of Honey and other beehive products on a digital platform.
The platform will help in checking the quality and source of adulteration of honey.
The portal will help in increasing the income of the farmers, boost exports and increase employment generation.
The portal will hold the database of all the stakeholders involved in honey production, marketing chains, hive production, and sales.
It will increase the reach of honey to international markets.
Honey Corners:
Honey Corners are special spaces for the marketing and sale of honey.
It is operated by the National Agricultural Cooperative Marketing Federation of India Ltd (NAFED).