UNESCO's Creative Cities Network: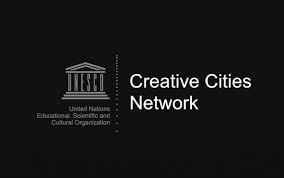 Kozhikode in Kerala and Gwalior in Madhya Pradesh have been added to the prestigious creative cities list of UNESCO for contributions in the fields of literature and music, respectively
UNESCO's Creative Cities Network was created in 2004.
It is To promote cooperation with and among cities that have identified creativity as a strategic factor for sustainable urban development.
Almost 300 cities around the world currently make up this network.
Objective is Placing creativity and cultural industries at the heart of their development plans at the local level and cooperating actively at the international level.
UNESCO designates the creative cities in seven fields: craft, folk art, media arts, film design, gastronomy, literature, and music.
Every year, UNESCO seeks applications from various cities across the globe to put them under its UCCN project.
The applications in India are routed through the Ministry of Culture.
Kozhikode is a permanent venue for the annual Kerala Literature Festival and hosts several other book festivals.
Gwalior has a rich and diverse musical heritage encompassing classical Hindustani music, folk music, and devotional music.
The city also has some prestigious music institutes and hosts popular festivals.