Daily Current Affairs for Government Exams:
Today Current Affairs: 27th October 2020 for UPSC IAS exams, State PSC exams, SSC CGL, State SSC, RRB, Railways, Banking Exam & IBPS, etc
Contents:
World Polio Day:
'India-Australia Circular Economy Hackathon (I-ACE):
Cases of Misconduct of Judges:
US Presidential election.:
Model Code of Conduct (MCC):
Other important current affairs:
1.World Polio Day: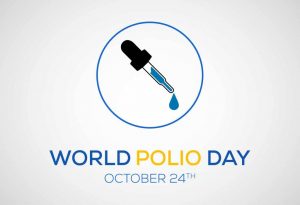 October 24 is observed as World Polio Day.
World Polio Day was established by Rotary International on 24th October to celebrate the birth of Jonas Salk, who developed a vaccine against poliomyelitis.
Polio:
The World Health Organization (WHO) defines polio or poliomyelitis as "a highly infectious viral disease, which mainly affects young children."
Transmission: The virus is transmitted by person-to-person, spread mainly through the faecal-oral route or, less frequently, by a common vehicle (e.g. contaminated water or food) and multiplies in the intestine, from where it can invade the nervous system and can cause paralysis.
The WHO on February 24, 2012, removed India from the list of countries with active endemic wild polio virus transmission.
Two years later, in 2014, the South-East Asia Region of the WHO, of which India is a part, was certified as polio-free.
Preventive efforts by India:
To prevent the virus from coming to India, the government has since March 2014 made the Oral Polio Vaccination (OPV) mandatory for those travelling between India and polio-affected countries, such as Afghanistan, Nigeria, Pakistan, Ethiopia, Kenya, Somalia, Syria and Cameroon.
2. 'India-Australia Circular Economy Hackathon (I-ACE):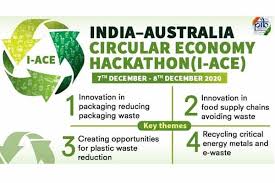 (AIM- an initiative set up by NITI Aayog), in association with Australia's Commonwealth Scientific and Industrial Research Organisation (CSIRO), will organize a two-day hackathon on the circular economy, 'India-Australia Circular Economy Hackathon (I-ACE)', in December 2020.
The idea of I-ACE was conceived during a virtual summit on 4th June, 2020, between the Indian and Australian prime ministers, exploring innovative ways to boost the circular economy in India and Australia.
Key Points
Focus: I-ACE will focus on identification and development of innovative technology solutions by students, startups and MSMEs of both nations.
Key Themes:

Innovation in packaging, reducing packaging waste.
Innovation in food supply chains, avoiding waste.
Creating opportunities for plastic waste reduction.
Recycling critical energy metals and e-waste.

Selection of Winners: Shortlisted students and startups/MSMEs will be called for the hackathon, where two winners (one student and one startup/MSME) per theme from each country will be announced at an award ceremony.
Cash Prize: Winning teams from both countries will get cash prizes. The winning Indian student and startup/MSME will be awarded a prize of Rs. 2 lakh and Rs 5 lakh, respectively, coupled with post-hackathon product development opportunities.
3.Cases of Misconduct of Judges: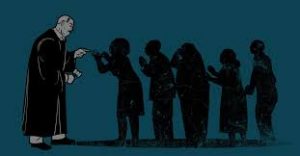 In a letter to the Chief Justice of India (CJI), Andhra Pradesh Chief Minister has accused the Supreme Court judge, Justice N.V. Ramana and some judges of Andhra Pradesh (AP) High Court of misconduct, corruption and political bias.
The allegation against the judges is unprecedented since it has been made publicly.
Issues Involved:
The Constitution of India protects the independence of judges of the High Courts and the Supreme Court by making them removable only through a process of impeachment.
Article 121 and 211 expressly bars the Parliament and State Legislatures from discussing the misconduct of judges.
Article 121 states that no discussions shall take place in Parliament with respect to the conduct of any judge of the Supreme Court or of a High Court in the discharge of his duties except upon a motion for the removal of the judge.
Article 211 says that no discussion shall take place in the legislature of a state with respect to the conduct of any judge of the Supreme Court or of a High Court in the discharge of his duties.
However, the AP CM has not made the allegations against the judges in the legislative assembly, and therefore, the bar under Article 211 is not attracted.
The chief minister of a state can make such allegations by circumventing the bar under Article 211, as the constitution does not envisage such a possibility.
However, generally, such allegations against judges are not made public, since it may cast aspersion on the credibility of the judiciary.
Since, AP CM has made the allegations publicly, such an act may invite action for contempt of court.
Action in Cases of Misconduct of Judges:
A judge can be removed from office on grounds of 'proved misbehaviour or incapacity'.
However, not all forms of misbehaviour will warrant removal. There could be other kinds of impropriety too.
There are times when serious complaints of misconduct are made and CJI is called upon to examine them.
Since 1997, judges have adopted an 'in-house procedure' for inquiring into such charges.
In-House Procedure:
Under the in-house procedure, when a complaint is received against a High Court judge, the CJI should decide if the issue is frivolous or serious.
If a deeper probe is considered necessary, both the complaint and the judge's response, along with the High Court's Chief Justice's comments, are recorded for further action.
If deemed necessary, CJI can also form a three-member committee to hold an inquiry into the matter.
The committee should have two Chief Justices from other High Courts and one High Court judge.
The inquiry it holds is of the nature of a fact-finding mission and is not a formal judicial inquiry involving the examination of witnesses. The judge concerned is entitled to appear before it.
4.US Presidential election.: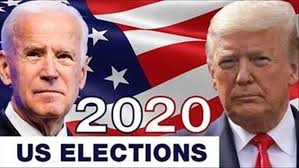 The relationship with the United States of America matters to India more than any other bilateral engagement: economically, strategically, and socially.
American Presidents can often make a real difference to bilateral ties, including on trade, immigration policies, and larger strategic issues.
The Indian diaspora in the US is one of the most successful expatriate communities, and while their political preferences may differ — they all favor a closer bonding between their janmabhoomi and their karmabhoomi.
India's first serious departure from its Non Aligned posture, the 1971 Indo-Soviet treaty, was a response to the continuing US tilt towards Pakistan and the beginnings of a Washington-Beijing entente.
Now, in 2020, it is the frightening prospect of a powerful, belligerent and hegemonic China that has helped New Delhi build its relationship with Washington.
Clearly, both Joe Biden and Donald Trump recognize the grave threat from China, but their response may be different:
Biden is likely to follow a policy of "Congagement": containment with engagement.
India and various US Presidents:
Republican regimes are often associated with the surgical pursuit of American interests.
The two Presidents often viewed as being the most affectionate towards India since World War II: John F Kennedy, in the 1960s, and George W Bush, in the 2000s.
Both reached out to India and engaged New Delhi with uncharacteristic zeal, in two very different times, but on both occasions the China threat acted as a catalyst to ensure that the bonding extended beyond just personal chemistry.
5. Model Code of Conduct (MCC):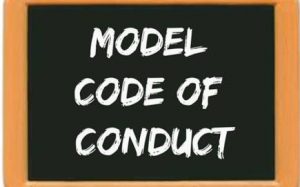 The Election Commission (EC) has found former Madhya Pradesh Chief Minister's remark on a woman politician violative of the Model Code of Conduct (MCC).
The MCC is a set of guidelines issued by the EC to regulate political parties and candidates prior to elections.
It helps EC in keeping with the mandate it has been given under Article 324 of the Constitution, which gives it the power to supervise and conduct free and fair elections to the Parliament and State Legislatures.
The MCC is operational from the date on which the election schedule is announced until the date of result announcement.
Evolution:
The origins of the MCC lie in the Assembly elections of Kerala in 1960 when the State administration prepared a 'Code of Conduct' for political actors.
Subsequently, in the Lok Sabha elections in 1962, the ECI circulated the code to all recognized political parties and State governments and it was wholeheartedly followed.
It was in 1991 after repeated flouting of the eligibility norms and continued corruption, the EC decided to enforce the MCC more strictly.
Other important current affairs:
1.Poland's Constitutional Tribunal has ruled that an existing law allowing abortion of malformed fetuses is unconstitutional, provoking an outcry from women and pro-choice activists.
The country's 1993 abortion law so far permitted the termination of pregnancy on the grounds of fetal defects.
Permitting abortions in the case of fetal deformities legalized "eugenic practices with regard to an unborn child, thus denying it the respect and protection of human dignity"
The tribunal observed that since the Polish constitution assures a right to life, an abortion based on a foetal malfunction was "a directly forbidden form of discrimination."
Poland's abortion laws were already considered some of the strictest in Europe. Now, once the court's decision is enacted, abortions will only be permitted in cases of rape, incest, or if there is a threat to the mother's life.
Finally, it is being seen as an attack on women's basic human rights.
2.A special CBI court has sentenced former Union Minister Dilip Ray and three other individual convicts to three years of jail term for irregularities in the allocation of the Brahmadiha coal block in Jharkhand in 1999.
The Coal Ministry through its guidelines had specifically said no company engaged in the production of iron and steel or sponge iron could get a captive coal mine if its production capacity was less than 1 lakh metric tonne per annum (MTPA) in opencast mining.
However, when private company Castron Technologies Ltd applied for Brahmadiha Coal Block in Giridih, the minister agreed to relax guidelines and allow the grant despite it not being eligible, the CBI found.
CAG had put the loss to the exchequer at Rs 1.8 lakh crore and called it "the mother of all scams".
The CAG had argued that the government had the authority to auction the coal blocks but chose not to and as a result allocatees received a "windfall gain".
3.Basic Exchange and Cooperation Agreement for Geo-Spatial cooperation (BECA) :
India and the U.S. will sign the last foundational agreement, Basic Exchange and Cooperation Agreement for Geo-Spatial Cooperation (BECA) during the upcoming 2+2 ministerial dialogue.
This agreement would facilitate the exchange of geospatial information between India and the United States for both military and civilian use.
BECA will allow India to use US expertise on geospatial intelligence and to enhance military accuracy of automated hardware systems and weapons like cruise, ballistic missiles, and drones.
4.The Indian Council of Medical Research (ICMR) has been considering dropping the plasma therapy from the national guidelines as it found that convalescent plasma was ineffective in arresting Covid-19.
In China and Netherlands too, the plasma therapy yielded very little or no results.
Plasma is the liquid part of the blood.
Convalescent plasma, extracted from the blood of patients recovering from an infection, is a source of antibodies against the infection.
The therapy involves using their plasma to help others recover.
For Covid-19, this has been one of the treatment options.
The donor would have to be a documented case of Covid-19 and healthy for 28 days since the last symptoms.
5.Aenigmachanna gollum:
It belongs to an old family of fish, called dragon snakeheads.
It lives in underground aquifers.
The name has been inspired from the character Gollum, who always stays underground, in the movie 'Lord of the Rings'.
It has been spotted recently in Kerala.
The scientists came to know about the fish through social media.
It is assumed that they originated in the Gondwanaland which later split into the continents of Asia and Africa.
6.Oaxaca Khadi:
It is the khadi being woven in Oaxaca, a place in Mexico, about which PM Modi mentioned in Mann ki Baat.
Khadi reached this place after a local resident became influenced by a film on Mahatma Gandhi.
7.The Gujarat High Court has become the first Court to live stream judicial proceedings on YouTube channel.
The High Court allowed open court proceedings through video conferencing, except the proceedings to be conducted in camera.
In-camera means in private chambers of a judge, with the press and public excluded.
It observed that the initiative of the live telecast is on an experimental basis and the aspect of continuing with or adapting the modality of live court proceedings will be decided based on the outcome of this trial.
The move has been welcomed by lawyers, law students, and the public at large besides litigants, being seen as a major measure towards transparency in judicial proceedings.
8.According to experts from the Indian National Centre for Ocean Information System (INCOIS), India is much safer against tsunami threats than it was in 2004, due to the establishment of a state-of-the-art tsunami early warning system at INCOIS.
The Indian Tsunami Early Warning System (ITEWS) was established in 2007 and is based at & operated by INCOIS, Hyderabad.
It is an integrated effort of different organizations including the Department of Space (DOS), Department of Science and Technology (DST), the Council of Scientific and Industrial Research (CSIR), Survey of India (SOI) and National Institute of Ocean Technology (NIOT).
ITEWS comprises a real-time network of seismic stations, tide gauges and a 24X7 operational tsunami warning center to detect tsunamigenic earthquakes, to monitor tsunamis and to provide timely advisories to vulnerable communities.
Indian scientists can detect large undersea earthquakes in Indian Ocean in real-time and provide a tsunami warning in 10-20 minutes after the earthquake occurs.
In 2004, India didn't have any tsunami warning capability nor any public knowledge of tsunamis in the Indian Ocean.
India is among the first few centres to introduce quantitative tsunami forecasts.
Intergovernmental Oceanographic Commission (IOC) of UNESCO (also known as UNESCO-IOC) accredited Indian Tsunami Early Warning Centre (ITEWC) as Tsunami Service Provider (TSP) for 28 Indian Ocean Rim (IOR) countries, along with Indonesia and Australia in 2011, for issuing regional warnings.