Daily Current Affairs for Government Exams:
Today Current Affairs: 28th October 2020 for UPSC IAS exams, State PSC exams, SSC CGL, State SSC, RRB, Railways, Banking Exam & IBPS, etc
Contents:
3rd India-USA 2+2 dialogue:
Maritime Vision 2030:
Electronic Exchange of Customs Data:
Computation Analysis of Indian Genes:
Other important current affairs
1. 3rd India-USA 2+2 dialogue: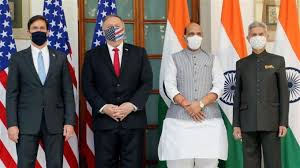 India and the USA have concluded the 3rd India-USA 2+2 dialogue in New Delhi.
The USA reiterated its support to India in defending its territorial sovereignty in the background of the ongoing standoff between India-China.
It also referred to the greater threats posed by China in the Indo-Pacific region and by the Covid-19 pandemic in general.
The first two rounds of these dialogues between both the countries were held in 2018 and 2019.
India has signed the Basic Exchange and Cooperation Agreement (BECA) with the USA.
BECA will enable the exchange of geospatial data and information between the two countries and will improve the accuracy of India's missiles in precision strikes.
The geospatial maps and charts to be shared, will be acquired from multiple sources like satellites, unmanned aerial vehicles (UAVs), reconnaissance aircraft, aerostats among others.
As part of measures to enhance military to military cooperation, Liaison Officers at each other's establishments could be leveraged to enhance information sharing.
BECA is one of the four foundational military communication agreements between the two countries.
The other three are:

General Security Of Military Information Agreement.
Logistics Exchange Memorandum of Agreement.
Communications and Information Security Memorandum of Agreement.

Both countries released a Joint Statement on shared Indo-USA goals in the Asia-Pacific region and emphasized that the Code of Conduct in the South China Sea should not prejudice the legitimate rights and interests of any nation in accordance with international law.
They also decided to expand joint capacity building activities with partner countries in the Indo-Pacific region.
2+2' Dialogue
2+2 Ministerial is the highest-level institutional mechanism between the two countries.It is a format of dialogue where the defence/foreign ministers or secretaries meet with their counterparts from another country.
India holds such talks with Australia, Japan and the USA.
2.Maritime Vision 2030: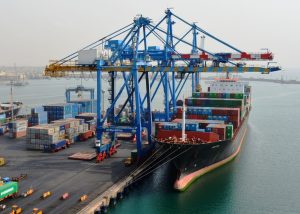 The Union Minister of State for Shipping has inaugurated the Direct Port Entry (DPE) facility of V O Chidambaranar Port Trust (VOCPT).
The state-of-the-art DPE facility is created inside the Truck Parking Terminal which was developed under the 'Sagarmala' for issuing customs clearance of export cargo.
The IT-enabled infrastructure at the ports will make Indian ports, world-class ports aligning with the 'Maritime Vision 2030' of the Ministry of Shipping.
Significance:
It will reduce logistics costs and increase the velocity of the cargo.
It would enable direct movement of containers from factories, without intermediate handling at any container freight stations (CFSs), on a 24×7 basis.
It will help in increasing the Ease of Doing Business for the exporters, as the facility will bring efficiency and reduce dwell time, lower tariff cost, and improve the competitiveness of shippers in international trade.
Maritime India Vision 2030
It is a ten-year blueprint for the maritime sector which will be released by the Prime Minister of India at the Maritime India Summit in November 2020.
It will supersede the Sagarmala initiative and aims to boost waterways, give a fillip to the shipbuilding industry and encourage cruise tourism in India.
Policy Initiatives and Development Projects:
Maritime Development Fund: A Rs. 25,000-crore fund, which will provide low cost, long-tenure financing to the sector with the Centre contributing Rs. 2,500 crore over seven years.
Port Regulatory Authority: A pan-India port authority will be set up under the new Indian Ports Act (to replace the old Indian Ports Act 1908) for enabling oversight across major and non-major ports, enhance institutional coverage for ports and provide for structured growth of the ports sector to boost investor confidence.
Eastern Waterways Connectivity Transport Grid project: It will aim to develop regional connectivity with Bangladesh, Nepal, Bhutan and Myanmar.
Riverine Development Fund: Calls for extending low cost, long-term financing for inland vessels with the support of a Riverine Development Fund (RDF) and for extending the coverage of the tonnage tax scheme (applicable to ocean-going ships and dredgers) to inland vessels also to enhance the availability of such vessels.
Rationalization of Port Charges: It will make them more competitive, besides doing away with all hidden charges levied by ship liners to bring in more transparency.
Promotion of Water Transport: For decongestion of urban areas, and developing waterways as an alternative means of urban transport.
3.Electronic Exchange of Customs Data: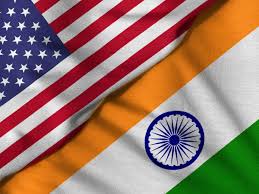 The Department of Posts, Government of India (India Post), and United States Postal Service signed an agreement for the electronic exchange of customs data related to postal shipments between the two countries.
The primary objective of this agreement is to facilitate 'ease of exports' for small and large exporters through postal channels from different parts of the country.
The agreement will make it possible to transmit and receive electronic data of international postal items prior to their physical arrival at the destination and would enable customs clearance of postal items in advance in line with the evolving global postal framework.
Exchange of Electronic Advance Data (EAD) will be a key driver towards promoting mutual trade with emphasis on the exports.
The USA is the top export destination for India (~17%) which is also reflected in the exchange of goods through postal channels.
In 2019, around 20% of international Express Mail Service (EMS) and 30% of Letters & Small Packets transmitted by India Post were destined to the USA whereas 60% of the Parcels received by India Post were originated from the USA.
Benefit: This will fulfill a major demand of the export industry to expedite customs clearances of export items and will contribute towards making India an Export Hub for the world.
The agreement will also improve the performance of postal services in terms of reliability, visibility and security.
India Post:
India Post is the trade name for the Department of Posts (DoP), a government-operated postal system in India under the Ministry of Communications.
With 1, 55,531 Post Offices, the DoP has the most widely distributed postal network in the world.
Functions: Delivering mails, accepting deposits under Small Savings Schemes, providing life insurance cover under Postal Life Insurance (PLI) and Rural Postal Life Insurance (RPLI) and providing retail services like bill collection, sale of forms, etc.
It also acts as an agent for the Government of India in discharging other services for citizens such as Mahatma Gandhi National Rural Employment Guarantee Scheme (MGNREGS) wage disbursement and old age pension payments.
4.Computation Analysis of Indian Genes: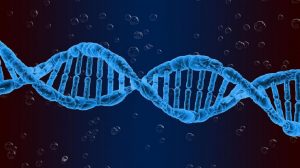 The results from the computation analysis of the 1029 sequenced genomes from India were published in the scientific journal, Nucleic Acid Research.
The analysis has found that out of 55,898,122 single-nucleotide variants in India 18,016,257 (32.23%) variants are unique and found only in the samples sequenced from India.
This emphasizes the need for an India centric population genomics initiative.
The analysis was carried out by CSIR constituent labs, Institute of Genomics and Integrative Biology (IGIB), Delhi and Centre for Cellular and Molecular Biology (CCMB), Hyderabad.
IndiGenomes Resource Database
It encompasses the genomic data from over 1000 whole genome sequences sequenced from across India as part of the IndiGen programme and represents diverse geographies and ethnicities.
The IndiGen Programme was launched in April 2019, under which genome sequencing of 1029 self-declared healthy Indians drawn from across the country has been completed.
Its objective was to enable genetic epidemiology and develop public health technologies applications using population genome data.
The resource provides access to over 55 million genetic variants representing the contemporary Indian population with an objective to classify variants involved in Mendelian disorders and improve precision medicine outcomes.
The mendelian disorder is a type of genetic disorder, resulting due to alterations in a gene or due to abnormalities in the genome.
It enables the identification of markers for carrier screening, variations causing genetic diseases, prevention of adverse events and provides better diagnosis and optimal therapy through mining data.
This resource can provide useful insights for clinicians and researchers in comprehending genetics not only at the population level but at the individual level.
Despite having this rich genetic diversity, India has been under-represented in global genome studies. Further, the population architecture of India has resulted in a high prevalence of recessive alleles.
In the absence of large-scale whole-genome studies from India, the population-specific genetic variants are not adequately captured and cataloged in the global medical literature.
In order to fill the gap of whole-genome sequences from different populations in India, CSIR initiated the IndiGen Programme.
Other important current affairs:
1.Union Road Transport Minister Nitin Gadkari announced that the 1.8 kilometer long Feni bridge connecting Sabrum in India with Ramgarh in Bangladesh will be completed by December this year.
Feni Bridge is known as Maitree Setu in Chattogram.
The bridge is being built over the Feni River and will connect Tripura with the Chittagong port of Bangladesh.
The foundation of the bridge was laid in 2015 jointly by Prime Minister Narendra Modi and Bangladesh Prime Minister Sheikh Hasina. The project is scheduled to be completed by April next year.
The bridge is being constructed by the National Highways Infrastructure Development Corporation Ltd of Ministry of Road and Transport Highways, Government of India.
3.Infantry Day.:
Prime Minister Narendra Modi has extended greetings on the occasion of Infantry Day.
Infantry Day is observed on October 27 to mark the landing of first Indian troops in Jammu and Kashmir in 1947 to push back Pakistan supported intruders.
On October 26, 1947 the then Maharaja of Jammu and Kashmir, Hari Singh, signed the instrument of accession, making his state a part of Indian dominion, and thus paving the day for Indian troops to be deployed in the state to fight against Pakistani invaders.
4.Japan's prime minister, Yoshihide Suga, has said the country will become carbon neutral by 2050, heralding a bolder approach to tackling the climate emergency by the world's third-biggest economy.
Japan had come under pressure to strengthen its climate commitments after initially saying that it would achieve an 80% reduction in emissions by 2050 followed by carbon neutrality "as soon as possible" in the second half of the century.
The policy shift brings Japan into line with the European Union, which set itself a similar target last year, while China recently announced it would become carbon-free by 2060.
Japan's current energy plan, set in 2018, calls for 22-24% of its energy to come from renewables, 20-22% from nuclear power and 56% from fossil fuels.
Suga, who replaced Shinzo Abe in mid-September, did not provide details on how Japan would reduce carbon emissions to zero.
4.A group of scientists from the Wadia Institute of Himalayan Geology (WIHG), Dehradun have found that the Indus-Tsangpo Suture Zone (ITSZ) of the Himalayas tectonically active.
The suture zone of Himalaya was conventionally thought to be locked.
WIHG is an autonomous institute under the Department of Science and Technology (DST), Government of India.
Tectonics is the scientific study of the deformation of the rocks that make up the Earth's crust and the forces that produce such deformation.
It deals with the folding and faulting associated with mountain building, the large-scale, gradual upward and downward movements of the crust, and sudden horizontal displacements along faults.
5.Male Government employees who are single parents will now be eligible for child care leave.
Aim: Ease-of-living for government servants.
Eligibility: Male government employees who were single parents.
Single male parents include unmarried employees, widowers, and divorcees, who may be expected to take up the responsibility of caring for a child single-handedly.
Features: Child care leave can be granted at 100% of the leave salary for the first 365 days and 80% of leave salary for the next 365 days.
In the case of a disabled child, the condition of availing child care leave up to the age of 22 years of the child has been removed and now child care leave can be availed by a government servant for a disabled child of any age.
Child Care Leave: It is treated as earned leave and is generally granted to women employees.
Women employees having minor children (children up to 18 years of age) may be granted child care leave for a maximum period of two years (i.e. 730 days) during their entire service for taking care of up to two minor children
The child care leave is granted either for rearing children or to look after any of the needs of children like examination, sickness, etc.