Daily Current Affairs for Government Exams:
Today Current Affairs: 26th October 2020 for UPSC IAS exams, State PSC exams, SSC CGL, State SSC, RRB, Railways, Banking Exam & IBPS, etc
Contents:
October update of the World Economic Outlook 2020
Dairy production was in place in the Indus Valley civilization in 2500 BCE
Compound Interest Waiver Scheme:
Ramsar Sites:
Global Hunger Index (GHI):
First room-temperature superconductor,:
Other important current affairs
1.October update of the World Economic Outlook 2020: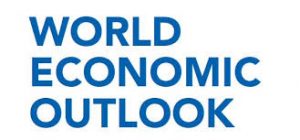 According to the October update of the World Economic Outlook 2020, India's gross domestic product (GDP) will witness a contraction of over 10%.
World Economic Outlook is a survey by the International Monetary Fund (IMF) which is usually published twice a year in the months of April and October.
Key Points:
Global growth would contract by 4.4% in 2020 and bounce back to 5.2% in 2021.
The Indian economy, severely hit by the pandemic, is projected to contract by 10.3% in 2020.
The spread of the Covid-19 and containment measures have severely disrupted supply and demand conditions in India.
However, India is likely to bounce back with an 8.8% growth rate in 2021, thus regaining the position of the fastest-growing emerging economy, surpassing China's projected growth rate of 8.2%.
Among the major economies, China is the only country to show a positive growth rate of 1.9% in 2020.
India-Bangladesh Difference
GDP Comparison: According to the IMF's forecasts, Bangladesh's per capita GDP is expected to overtake India in 2020. India is likely to grow faster in 2021 and in all likelihood again surge ahead.
Per Capita Income Comparison: However, over the five-year period ending in 2025, Bangladesh's per capita GDP is expected to grow at a slightly higher pace, implying that in 2025, it's per capita income would be USD 2,756, marginally higher than that of India's at USD 2,729.
Given Bangladesh's lower population growth and faster economic growth, India and Bangladesh are likely to be neck and neck for the foreseeable future in terms of per capita income.
2.Dairy production was in place in the Indus Valley civilization in 2500 BCE, :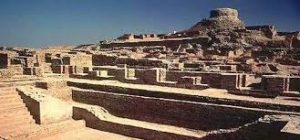 For the first time it's been proved scientifically that dairy production was in place in the Indus Valley civilization in 2500 BCE, and the earliest known evidence of dairy production.
The results were based on molecular chemical analysis of residue in shards of pottery found at the archaeological site of Kotada Bhadli located in Gujarat.
Of the 59 samples studied, 22 showed the presence of dairy lipids.
Key findings:
Dairy production in India began as far back as in the 3rd millennium BCE and may have been a factor behind sustaining the Indus Valley Civilisation.
Through a process called stable isotope analysis, the researchers were also able to identify the type of ruminant used for dairy and concluded that these were cattle, like cows and buffalo, rather than goats and sheep.
Industrial level of dairy exploitation: The Harappans did not just use dairy for their household.
The large herd indicates that milk was produced in surplus so that it could be exchanged and there could have been some kind of trade between settlements.
This could have given rise to an industrial level of dairy exploitation.
Molecular analysis techniques were used to study the residues from ancient pottery.
Pots are porous. So as soon as we put any liquid form of food, it will absorb it.
But, the pot preserves the molecules of food such as fats and proteins.
Using techniques like C16 and C18 analysis we can identify the source of lipids.
3.Compound Interest Waiver Scheme: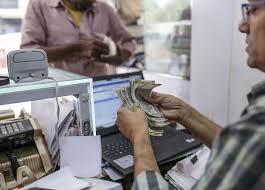 The Government of India has announced the scheme for the waiver of compound interest that was payable by the borrower who had opted for loan moratorium between 1st March 2020, and 31st August 2020.
The Reserve Bank of India (RBI) had in March 2020 offered a three-month moratorium on loans, enabling borrowers to defer repayments on EMIs and other loans. This was later extended by another three months, till 31st August 2020.
The loan moratorium, and waiver of compound interest, was aimed at providing borrowers relief amid the economic impact of the Covid-19 pandemic.
Under this, the government will grant eligible borrowers ex-gratia payment of the difference between the compound interest and simple interest for the six-month moratorium period.
Ex-gratia payment is the money which is paid due to moral obligation and not due to legal obligation.
Simple interest is levied only on the principal amount of a loan or deposit. In contrast, compound interest is levied on the principal amount and the interest that accumulates on it in every period.
Eligibility:
The scheme shall be applicable for loans availed by Micro, Small and Medium Enterprises (MSMEs) as well as loans to retail customers for education, housing, consumer durables, automobiles, provided a borrower has an aggregate outstanding loan of Rs. 2 crores or less, from all such loans.
Credit card dues have also been included in the scheme's ambit.
The loan interest waiver payment shall be admissible, irrespective of whether the borrower had availed the moratorium partly, fully, or not at all.
However, this would only be permitted for loan accounts that had not been reported as Non-Performing Assets (NPAs) as on 29th February 2020.
A loan is recorded as a non-performing asset or NPA, 90 days after repayments become overdue.
Effect:
The amount saved through loan interest waiver will be very small. This is because only the interest that would have been charged on the interest of the original loan during the six months moratorium period is waived off.
In other words, the loan repayment will continue and one will still need to pay the simple interest that would have paid if not opted for the loan moratorium.
It is only the compounding interest that goes off.
Implementation:
Lenders have been asked to set up a grievance redressal mechanism for eligible borrowers under the scheme by 30th October 2020.
A mechanism has also been put in place for lenders to claim the amount back from the government. Lenders have to submit claims for reimbursement by 15th December 2020 through a special cell set up in the State Bank of India (SBI).
4.Ramsar Sites:
Kabartal Wetland (Bihar) and Asan Conservation Reserve (Uttrakhand) have been designated as Ramsar sites, making them 'Wetlands of International Importance'.
Earlier in 2020, India designated 10 more wetlands as a Ramsar site, taking the total number from 27 to 37.
With 2 more inclusions, the total number of Ramsar sites in India is 39, the highest in South Asia.
Kabartal Wetland: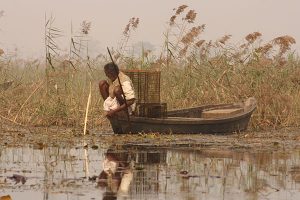 Also known as Kanwar Jheel, it covers 2,620 hectares of the Indo-Gangetic plains in the Begusarai district of Bihar.
It acts as a vital flood buffer for the region besides providing livelihood opportunities to local communities.
Significant biodiversity is present, with 165 plant species and 394 animal species recorded, including 221 bird species. It is also a valuable site for fish biodiversity with over 50 species documented.
It is an important stopover along the Central Asian Flyway, with 58 migratory waterbirds using it to rest and refuel.
Five critically endangered species inhabit the site, including three vultures – the red-headed vulture (Sarcogyps calvus), white-rumped vulture (Gyps bengalensis) and Indian vulture (Gyps indicus) – and two waterbirds, the sociable lapwing (Vanellus gregarius) and Baer's pochard (Aythya baeri).
Major threats to the Site include water management activities such as drainage, water abstraction, damming and canalization.
Asan Conservation Reserve: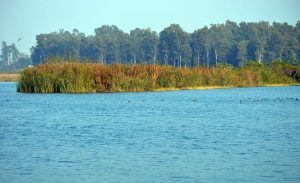 ACR is a 444-hectare stretch of the Asan River running down to its confluence with the Yamuna River in Dehradun district of Uttarakhand. It is Uttarakhand's first Ramsar Site.
The damming of the River by the Asan Barrage in 1967 resulted in siltation above the dam wall, which helped to create some of the Site's bird-friendly habitats.
These habitats support 330 species of birds including the critically endangered red-headed vulture (Sarcogyps calvus), white-rumped vulture (Gyps bengalensis) and Baer's pochard (Aythya baeri).
Other non-avian species present include 49 fish species, one of these being the endangered Putitora mahseer (Tor putitora). Fish use the site for feeding, migration and spawning.
Ramsar Site
Ramsar Convention on Wetlands is an intergovernmental treaty adopted in 1971 in the Iranian city of Ramsar, on the southern shore of the Caspian Sea.
It came into force for India on 1st February 1982. Those wetlands which are of international importance are declared as Ramsar sites.
The Convention's mission is "the conservation and wise use of all wetlands through local and national actions and international cooperation, as a contribution towards achieving sustainable development throughout the world".
The Montreux Record is a register of wetland sites on the List of Wetlands of International Importance where changes in ecological character have occurred, are occurring, or are likely to occur as a result of technological developments, pollution or other human interference. It is maintained as part of the Ramsar List.
At present, two wetlands of India are in Montreux Record: Keoladeo National Park (Rajasthan) and Loktak Lake (Manipur).
Chilika Lake (Odisha) was placed in the record but later removed from it.
5.Global Hunger Index (GHI):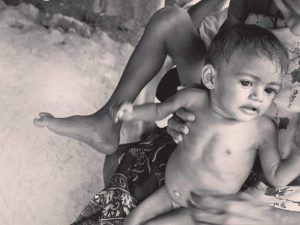 Nearly 690 million people in the world are undernourished; 144 million children suffer from stunting, a sign of chronic undernutrition; 47 million children suffer from wasting, also a sign of acute undernutrition.
India has been ranked 94 out of 107 countries, lower than neighbors like Bangladesh and Pakistan.
India falls in the 'serious' category on the Index, with a total score of 27.2.
This is a definite improvement from the situation two decades ago when it scored 38.9 and fell into the 'alarming' category.
India's performance is abysmal when compared to its peers in the BRICS countries.
India's performance in various parameters (Have a general overview):
Overall undernourishment: 14% of India's population does not get enough calories, an improvement from almost 20% in 2005-07.
The child mortality rate is 3.7%, a significant drop from 9.2% in 2000.
Child stunting: Almost 35% of Indian children are stunted, and although this is much better than the 54.2% rate of 2000, it is still among the world's worst.
Child Wasting: 17.3% of Indian children under five are wasted, which is the highest prevalence of child wasting in the world.
States that usually fare poorly on development indices, such as Bihar, Rajasthan and Odisha, actually do better than the national average, with 13-14% rates of wasting.
Global Hunger Index:
It is an annual peer-reviewed publication by Concern Worldwide and Welthungerhilfe.
It tracks hunger at global, regional, and national levels.
It uses four parameters to calculate its scores:
UNDERNOURISHMENT: the share of the population that is undernourished (that is, whose caloric intake is insufficient).
CHILD WASTING: the share of children under the age of five who are wasted (that is, who have low weight for their height, reflecting acute undernutrition).
CHILD STUNTING: the share of children under the age of five who are stunted (that is, who have low height for their age, reflecting chronic undernutrition).
CHILD MORTALITY: the mortality rate of children under the age of five (in part, a reflection of the fatal mix of inadequate nutrition and unhealthy environments).
0 to 100 point scale:
Zero means no hunger at all.
Countries scoring 9.9 and less are classified as having low severity.
A score between 10 and 19.9 is considered moderate, that from 20 to 34.9 is serious, and a score of 35 or more is alarming.
6. First room-temperature superconductor,: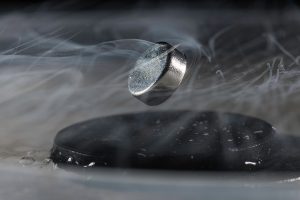 Scientists have reported the discovery of the first room-temperature superconductor, after more than a century of waiting.
The superconductor was formed by squeezing carbon, hydrogen, and sulfur between the tips of two diamonds and hitting the material with laser light to induce chemical reactions.
At a pressure about 2.6 million times that of Earth's atmosphere, and temperatures below about 15° C, the electrical resistance vanished.
However, the new material's superconducting superpowers appear only at extremely high pressures, limiting its practical usefulness.
All superconductors previously discovered had to be cooled, many of them to very low temperatures, making them impractical for most uses.
But, the recently discovered superconductor can operate at room temperature- the material is superconducting below temperatures of about 15° Celsius.
Superconductors:
Superconductors transmit electricity without resistance, allowing current to flow without any energy loss.
When superconductivity was discovered in 1911, it was found only at temperatures close to absolute zero (−273.15° C).
If a room-temperature superconductor could be used at atmospheric pressure, it could save vast amounts of energy lost to resistance in the electrical grid.
And it could improve current technologies, from MRI machines to quantum computers to magnetically levitated trains. Dias envisions that humanity could become a "superconducting society."
Other important current affairs:
1.The Council of Scientific and Industrial Research's Central Mechanical Engineering Research Institute (CSIR-CMERI) has developed a Municipal Solid Waste (MSW) Processing Facility (Decentralised Solid Waste Management Plant) to solve the problem of waste management in India.
With an ever-increasing population and rapid pace of urbanization, India faces a huge challenge of waste management.
The volume of waste is projected to rise from the present 62 million tonnes to about 150 million tonnes by 2030.
Indiscriminate dumping of garbage at the current rate without appropriate scientific treatment would impose a huge requirement of landfill area per year.
Studies suggest that the MSW generated in India mostly consists of a large fraction of organic wastes and their unscientific disposal produces greenhouse gas (GHG) emissions and other air pollutants like methane (CH4).
The ineffective processing of MSW also is the root cause of many diseases as the dumped landfills transform into contamination hubs for pathogens, bacteria and viruses.
The most commonly used process "composting" also does not yield impactful economic returns for the entrepreneurs.
It requires more land space and labour, pasteurisation for effective disinfection and has restricted utilisation due to the presence of heavy metals.
During the rainy season, managing it becomes difficult due to the presence of excessive moisture.
2.Women in Poland have been protesting a court ruling that drastically restricts their right to access safe and legal abortions.
The existing 1993 abortion law permits the termination of pregnancy on the grounds of foetal defects.
These are already considered some of the strictest laws in Europe and after the enactment of the court's decision, abortions will only be permitted in cases of rape, incest, or if there is a threat to the mother's life.
Poland's Constitutional Tribunal ruled that existing law was unconstitutional because the Polish constitution assures a right to life and the abortion based on a foetal malfunction was a directly forbidden form of discrimination.
Tribunal held that permitting abortions in the case of foetal deformities legalised "eugenic practices with regard to an unborn child, thus denying it the respect and protection of human dignity."
Eugenics is the practise or advocacy of improving the human species by selectively mating people with specific desirable hereditary traits.
It aims to reduce human suffering by "breeding out" disease, disabilities and so-called undesirable characteristics from the human population.
3.The Prime Minister has launched the 'Kisan Suryodaya Yojana' aimed at providing day-time electricity to farmers in Gujarat for irrigation and farming purposes.
The Prime Minister also launched a 2.3 km-long ropeway project on Mount Girnar in Junagadh city, a major pilgrimage site.
Kisan Suryodaya Yojana:

Rs. 3,500 crores will be spent over the next three years for providing solar power to farmers for irrigation during daytime (5 AM to 9 PM).
About 3,500 circuit kilometers (CKM) of new transmission lines will be laid.
10 districts including Dahod, Gir-Somnath, and Tapi have been selected under the Scheme for 2020-21.
The remaining districts will be covered in a phase-wise manner by 2022-23.
4.Over 50 lakh people have benefited from Indira Rasoi Yojana (a kitchen scheme), in Rajasthan. The scheme was launched in August 2020.
Aim: To provide nutritious food to the poor and needy twice a day at concessional rates.
Under the scheme, each plate serves 100 grams of pulses and vegetables each, 250 grams of chapati and pickles.
It aligns with World Food Day's 2020 theme to grow, nourish and sustain together.
Implementation: The local voluntary organizations have been roped in for establishing the centres near the places such as bus stands, railway stations and hospitals and for successful implementation of the scheme.
Background: The current Rajasthan government scrapped the previous Annapurna Rasoi Yojana which was offering breakfast and lunch on the lines of Tamil Nadu's Amma Unavagam (mother's canteen).
Monitoring: A committee headed by the District Collector will be monitoring the implementation of the scheme. A special app has also been created for monitoring food quality.
Target: The scheme targets to serve 1.34 lakh people per day in the state. Till now the scheme has benefitted 50.30 lakh, persons, across the State.
5.Sudan and Israel have agreed to normalise relations, in a U.S.-brokered deal to end decades of hostility.
The announcement makes Sudan, technically at war with Israel since its 1948 foundation, the third Arab country to forge diplomatic relations with the Jewish state in the last two months. Previously, UAE and Bahrain have signed this agreement.
Palestinian leaders strongly condemned the deal.
Israel-Palestine Conflict: The Israeli-Palestinian conflict dates back to the end of the nineteenth century, primarily as a conflict over territory.
After the 1948 Arab-Israeli war, the Holy Land was divided into three parts: The State of Israel, the West Bank (of the Jordan River), and the Gaza Strip.
The 1993 Oslo Accords mediated the conflict, to set up a framework for a two-state solution.
It recognized the Palestinian Authority tasked with limited self-governance of parts of the West Bank and Gaza Strip.