Today Current Affairs: 7th January 2021  for UPSC IAS exams, State PSC exams, SSC CGL, State SSC, RRB, Railways, Banking Exam & IBPS, etc
Contents:
Air Pollution and Pregnancy Losses: Lancet Report:
Memorandum of Cooperation (MOC) between the Government of India and Government of Japan, on a Basic Framework for Partnership for Proper Operation of the System Pertaining to "Specified Skilled Worker
Coalition for Epidemic Preparedness Innovations (CEPI) established at Translational Health Science & Technology Institute (THSTI), Faridabad.
Vertical and horizontal reservations:
Longitudinal Ageing Study of India (LASI)
Payment Infrastructure Development Fund Scheme
New Rewari – New Madar Section of the Western Dedicated Freight Corridor (WDFC):
Other important current affairs
1.Air Pollution and Pregnancy Losses: Lancet Report: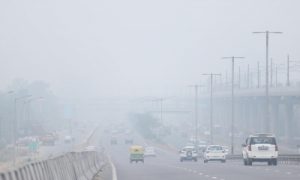 According to a recent study poor air quality is associated with a considerable proportion of pregnancy loss in India, Pakistan, and Bangladesh.
It is the first study to estimate the effect of air pollution on pregnancy loss across the region.
They created a model to examine how exposure to PM 2.5 increased women's risk of pregnancy loss, calculating risk for each 10 µg/m³ increased in PM 2.5 after adjusting for maternal age, temperature and humidity, seasonal variation, and long-term trends in pregnancy loss.
Each increase in 10 µg/m³ was estimated to increase a mother's risk of pregnancy loss by 3%.
The increase in risk was greater for mothers from rural areas or those who became pregnant at an older age, compared to younger mothers from urban areas.
Area Specific Report:
Of the pregnancy loss cases, 77% were from India, 12% from Pakistan, and 11% from Bangladesh.
The study was unable to distinguish between natural pregnancy loss and abortions, which may have led to an underestimation of the effect of air pollution on natural pregnancy loss.
There was under-reporting of pregnancy losses because of stigma or ignoring very early pregnancy losses.
Air Pollution:
Air pollution refers to any physical, chemical, or biological change in the air. It is the contamination of air by harmful gases, dust, and smoke which affects plants, animals, and humans drastically.
Air Pollutants: Pollutants are the substances which cause pollution. Types:
Primary: The pollutants that directly cause air pollution or the pollutants that are formed and emitted directly from particular sources. Examples are particulate matter, carbon monoxide, nitrogen oxide, and sulfur oxide.
Secondary: The pollutants formed by the intermingling and reaction of primary pollutants are known as secondary pollutants. Examples are ozone and secondary organic aerosol (haze).
Impact of Air Pollution on Human Health:
As per the State of Global Air 2020 (SoGA 2020) released by the Health Effects Institute (HEI):

High PM contributed to the deaths of more than 1,16,000 Indian infants who did not survive their first month.
More than half of these deaths were associated with outdoor PM2.5 and others were linked to the use of solid fuels such as charcoal, wood, and animal dung for cooking.
2.Memorandum of Cooperation (MOC) between the Government of India and Government of Japan, on a Basic Framework for Partnership for Proper Operation of the System Pertaining to "Specified Skilled Worker".: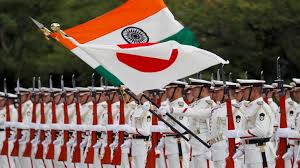 The Union Cabinet has approved the signing of a Memorandum of Cooperation (MOC) between the Government of India and Government of Japan, on a Basic Framework for Partnership for Proper Operation of the System Pertaining to "Specified Skilled Worker".
The MOC would set an institutional mechanism for partnership and cooperation between India and Japan on sending and accepting skilled Indian workers, who have qualified the required skill and Japanese language test, to work in fourteen specified sectors in Japan.
These Indian workers would be granted a new status of residence of "Specified Skilled Worker" by the Government of Japan.
Implementation Strategy: Under this MOC, a Joint Working Group will be set up to follow up the implementation of this MOC.
Major Impact: It would enhance people-to -people contacts, foster mobility of workers and skilled professionals from India to Japan.
3.Coalition for Epidemic Preparedness Innovations (CEPI) established at Translational Health Science & Technology Institute (THSTI), Faridabad.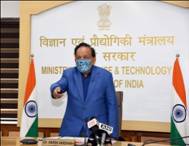 Union Minister for Science & Technology inaugurated one of the seven labs of the world called as the centralized network lab of Coalition for Epidemic Preparedness Innovations (CEPI) established at Translational Health Science & Technology Institute (THSTI), Faridabad.
The CEPI centralized laboratory at DBT-THSTI Faridabad is the first of its kind in India and one of the seven in the world
THSTI is an institute of the Department of Biotechnology (DBT).
This is the only laboratory of such kind in India and is also accredited by National Accreditation Board for Testing and Calibration Laboratories (NABL)
CEPI is an innovative partnership between public, private, philanthropic, and civil organizations, launched at Davos in 2017, to develop vaccines to stop future epidemics.
The Department of Biotechnology, Ministry of Science & Technology, Government of India is implementing the Ind-CEPI mission titled 'India Centric Epidemic Preparedness through Rapid Vaccine Development:

Supporting Indian Vaccine Development Aligned with the Global Initiative of the Coalition for Epidemic Preparedness Innovations (CEPI)'.

Ind-CEPI Mission aims to strengthen the development of vaccines for the diseases of epidemic potential in India as well as build coordinated preparedness in the Indian public health system and vaccine industry to address existing and emergent infectious threats in India.
4.Vertical and horizontal reservations: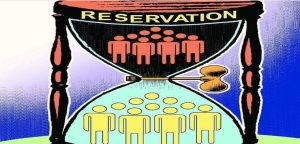 The Supreme Court clarified the position of law on the interplay of vertical and horizontal reservations. The decision in Saurav Yadav versus State of Uttar Pradesh dealt with issues arising from the way different classes of reservation were to be applied in the selection process to fill posts of constables in the state.
Reservation for Scheduled Castes, Scheduled Tribes, and Other Backward Classes is referred to as vertical reservation.
It applies separately for each of the groups specified under the law.
Horizontal reservation refers to the equal opportunity provided to other categories of beneficiaries such as women, veterans, the transgender community, and individuals with disabilities, cutting through the vertical categories.
The horizontal quota is applied separately to each vertical category, and not across the board.
The interlocking of the two types of reservation throws up a host of questions on how certain groups are to be identified.
Saurav Yadav case:
The court ruled that if a person belonging to an intersection of vertical-horizontal reserved category had secured scores high enough to qualify without the vertical reservation, the person would be counted as qualifying without the vertical reservation, and cannot be excluded from the horizontal quota in the general category.
It argued that if both vertical and horizontal quotas were to be applied together then the overall selection would have candidates with lower scores.
5. Longitudinal Ageing Study of India (LASI) :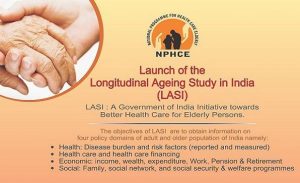 The Ministry of Health & Family Welfare has released the Longitudinal Ageing Study of India (LASI) Wave-1 Report on the virtual platform.
About LASI:
It is a full scale national survey of scientific investigation of the health, economic, and social determinants and consequences of population ageing in India. It was commissioned in 2016.
It is India's first and the world's largest ever survey that provides a longitudinal database for designing policies and programmes for the older population in the broad domains of social, health, and economic well-being.
Agencies Involved: The National Programme for Health Care of Elderly, Ministry of Health & Family Welfare has undertaken the Longitudinal Ageing Study of India, through International Institute for Population Sciences, (IIPS), Mumbai in collaboration with Harvard School of Public Health, University of Southern California, USA, United Nations Population Fund (UNFPA) and National Institute on Ageing.
Coverage: The first national wave of the LASI (Wave 1) covered a baseline sample of 72,250 individuals aged 45 and above and their spouses, including elderly persons aged 60 and above and oldest-old persons aged 75 and above from all States and Union Territories (UTs) of India (excluding Sikkim).
Methodology: It collects detailed data on health and biomarkers together with information on family and social network, income, assets, and consumption.
In medicine, a biomarker is a measurable indicator of the severity or presence of some disease state. More generally a biomarker is anything that can be used as an indicator of a particular disease state or some other physiological state of an organism.
Findings:
In the 2011 census, the 60+ population accounted for 8.6% of India's population, accounting for 103 million elderly people.
Growing at around 3% annually, the number of elderly people will rise to 319 million in 2050.
75% of the elderly people suffer from one or the other chronic disease. 40% of the elderly people have one or the other disability and 20% have issues related to mental health.
The self-reported prevalence of diagnosed cardiovascular diseases (CVDs) is 28% among older adults aged 45 and above.
The prevalence of multi-morbidity conditions among the elderly age 60 and above is much higher in the states/UTs of Kerala (52%), Chandigarh (41%), Lakshadweep (40%), Goa (39%) and Andaman & Nicobar Islands (38%).
The prevalence of single morbidity and multi-morbidity conditions increases with age.
6.Payment Infrastructure Development Fund Scheme: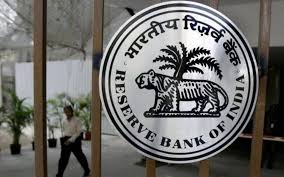 The Reserve Bank of India (RBI) has announced the operationalisation of the Payment Infrastructure Development Fund (PIDF) scheme.
Objective: Develop payment acceptance infrastructure in tier-3 to tier-6 cities (centres), with a special focus on the north-eastern states of the country.
Time Period: The fund will be operational for three years effective from 1st January, 2021 and may be extended for two more years.
An Advisory Council (AC) under the chairmanship of RBI deputy governor BP Kanungo has been constituted for managing the PIDF.
The PIDF presently has a corpus of Rs. 345 crore, with Rs. 250 crore contributed by the RBI and Rs. 95 crore by the major authorised card networks in the country. The authorised card networks shall contribute in all Rs. 100 crore.
Besides the initial corpus, PIDF shall also receive annual contributions from card networks and card issuing banks.
The role of a card network is to facilitate transactions between merchants and card issuers. E.g. Mastercard, Visa.
Implementation:

The focus shall be to target those merchants who are yet to be terminalised (merchants who do not have any payment acceptance device).
Merchants engaged in services such as transport and hospitality, government payments, fuel pumps, public distribution system (PDS) shops, healthcare and kirana shops may be included, especially in the targeted geographies.

The fund will be used to subsidize banks and non-banks for deploying payment infrastructure, which will be contingent upon specific targets being achieved.
The Advisory Council will devise a transparent mechanism for allocation of targets to acquiring banks and non-banks in different segments and locations.
The implementation of targets shall be monitored by the RBI with assistance from card networks, the Indian Banks' Association (IBA) and the Payments Council of India (PCI).
Acquiring banks (also acquirers or merchant banks) are financial institutions processing debit and credit card transactions on behalf of a merchant or business.
Tentatively, tier-3 and tier-4 centres will be allocated 30% of the acceptance devices, tier-5 and tier-6 centres will get 60% and the north eastern states will be given 10%.
Multiple payment acceptance devices and infrastructure supporting underlying card payments, such as physical Point of Sale, mobile Point of Sale, General Packet Radio Service (GPRS) , Public Switched Telephone Network (PSTN) and QR code-based payments will be funded under the scheme.
7.New Rewari – New Madar Section of the Western Dedicated Freight Corridor (WDFC):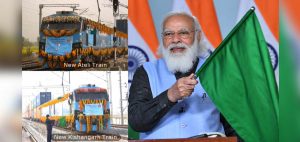 Prime Minister Modi will dedicate to the nation the 306 Km New Rewari – New Madar Section of the Western Dedicated Freight Corridor (WDFC) on 7th January 2021.
The New Rewari – New Madar section of the Western Dedicated Freight Corridor is situated in Haryana (approx. 79 Km, in Mahendragarh and Rewari districts) and Rajasthan (approx. 227 Km, in Jaipur, Ajmer, Sikar, Nagaur and Alwar districts).
It consists of nine newly built DFC stations in which six are crossing stations viz. New Dabla, New Bhagega, New Sri Madhopur, New Pachar Malikpur, New Sakun and New Kishangarh while the other three in New Rewari, New Ateli and New Phulera are junction stations.
The opening of this stretch will benefit various industries in Rewari – Manesar, Narnaul, Phulera and Kishangarh areas of Rajasthan & Haryana and will also enable better usage of the container depot of CONCOR at Kathuwas.
This section will also ensure seamless connectivity with the western ports of Kandla, Pipavav, Mundhra, and Dahej situated in Gujarat.
With the inauguration of this section, seamless connectivity between the WDFC and EDFC will be achieved.
Earlier the 351-km New Bhaupur- New Khurja section of the EDFC was dedicated to the nation by the Prime Minister on 29th December 2020.
Other important current affairs:
1.An India-funded free ambulance service is playing a vital role in Sri Lanka's Covid-19 response.
India provided a grant of 7.56 million USD for the Suwa Seriya [vehicle or journey for good health] service which was launched in 2016, on a pilot basis. Later, this was extended throughout the country with additional grants from India.
India also helped with Capacity Building:

Training and refresher programmes for Sri Lankan emergency medical technicians which further generated employment for the local population.

It is India's second largest grant project to Sri Lanka after the housing project of more than 60,000 houses, with a nearly 400 million USD grant.
India Sri Lanka Relations

Geopolitical Significance of SriLanka:

Sri Lanka's location in the Indian Ocean region has been of strategic geopolitical relevance to several major powers.
China's string of pearl's strategy is aimed at encircling India to establish dominance in the Indian Ocean.
China is building state of the art gigantic modern ports all along the Indian Ocean and to the south of it, in Gwadar (Pakistan), Chittagong (Bangladesh, Kyauk Phru (Myanmar) and Hambantota (Sri Lanka). Thus Sri Lanka is vital for China's String of Pearls strategy.
Sri Lanka has a list of highly strategic ports located among busiest sea lanes of communication.
2.The new Director General, Border Road Organisation (BRO), Lt General Rajeev Chaudhry briefed Government of India about the Chattergala tunnel.
The proposed Chattergala tunnel in Jammu & Kashmir will connect district Kathua with district Doda enroute the new Highway via Basohli-Bani through Chattergalla to touch Bhaderwah and Doda.
This is going to be a historic landmark project providing all-weather alternate road connectivity between the two distant regions and reducing the travel time from Doda to Lakhanpur on the Punjab border to just around four hours.
It is going to be a 6.8 Km long tunnel. The tunnel is likely to take about 4 years for completion after the execution work starts and its construction cost is around Rs. 3,000 crore.
3.The Department for Promotion of Industry and Internal Trade, Ministry of Commerce & Industry, Govt. of India is organizing 'Udyog Manthan' in association with Quality Council of India, National Productivity Council, and Industry bodies.
Udyog Manthan is a marathon of focused sector-specific webinars for promoting Quality and Productivity in Indian Industry.
It is being held from January 4, 2021 to March 2, 2021.
The webinar series comprising 45 sessions will cover various major sectors in manufacturing and services. Udyog Manthan will identify challenges, opportunities; draw upon solutions and best practices.
Participants will include representatives from industry, testing and standardization bodies. The discussions will be live streamed on YouTube for all those interested in following the sessions.
4.A geophysical survey, namely, Magneto-telluric (MT) is being conducted over the Delhi region.
The National Capital Region of Delhi experienced 4 small earthquakes during April – August 2020.
These earthquakes were followed by a dozen of micro-events (M<3.0) including, a few aftershocks.
All these events were located by the National Seismological Network (NSN), being operated and maintained by National Seismological Centre (NCS), Ministry of Earth Sciences.
Subsequently, NCS initiated the Magneto-telluric (MT), a geophysical survey over the Delhi region.
This survey is carried out in collaboration with Wadia Institute of Himalayan Geology (WIHG), Dehradun.
Magneto-telluric (MT) is a geophysical method which uses natural time variation of the Earth's magnetic and electric fields to understand geological (underground) structure and processes.
These measurements are conducted across three major seismic sources, namely Mahendragarh-Dehradun Fault (MDF), Sohna Fault (SF) and Mathura Fault (MF).
These measurements will ascertain the presence of fluid, which generally enhances the possibility of triggering of earthquakes.
5.On 7th January 2021, Prime Minister Modi will flag off the world's first Double Stack Long Haul 1.5 Km long Container Train hauled by electric traction from New Ateli -New Kishangarh.
Double Stack Long Haul Container Train Operation will have an enhanced axle load of 25 tons.
It has been designed for DFCCIL by RDSO's wagon department. Trial runs of BLCS-A and BLCS-B wagon prototypes have been completed.
The design will maximize capacity utilization and uniform distributed and point loading.
These wagons on a long-haul double stack container train on the WDFC can carry four times in terms of container units compared to the current traffic on Indian Railways.
6.Rastriya Kamdhenu Aayog has announced Kamdhenu Gau-Vigyan Prachar-Prasar Exam.
Establishment of Kamdhenu Chair or Kamdhenu Study Centre or Kamdhenu Research Centre in all colleges and universities across the country is getting the country-wide momentum.
For raising mass awareness about Indigenous Cows among young Students and every other citizen, Rastriya Kamdhenu Aayog (RKA) is making Study materials about Cow Science available and conduct "Kamdhenu Gau-Vigyan Prachar-Prasar Examination".
This will infuse the curiosity into all Indians about the cows, and make them aware of the unexplored potential and business opportunities a cow can offer, even after it stops giving milk.
Kamdhenu Gau-VigyanPrachar-Prasar Exam will be an online exam to be conducted throughout the country on 25th February, 2021.
The Exam will be an annual event of the Rashtriya Kamdhenu Aayog in future.
Rashtriya Kamdhenu Aayog (RKA), a high-powered permanent body, has been constituted by the Government of India for the conservation, preservation, protection and development of cows and their progenies and for giving directions for the cattle development programmes.
7.The Chief Minister of Karnataka has laid the foundation stone for the 'New Anubhava Mantapa' in Basavakalyan, the place where 12th century poet-philosopher Basaveshwara lived for most of his life.
About the New Anubhava Mantapa: It will be a six-floor structure in the midst of the 7.5-acre plot and represent various principles of Basaveshwara's philosophy.
It will showcase the 12th Century Anubhava Mantapa (often referred to as the "first Parliament of the world") established by Basaveshwara in Basavakalyan where philosophers and social reformers held debates.
The building will adopt the Kalyana Chalukya style of architecture.
Later Chalukyas, popularly known as the Chalukyas of Kalyan or Kalyani Chalukyas form an integral part of ancient Karnataka history of early medieval period. Kalyan Chalukya rulers patronised temple construction, dance and music, as their predecessors did.
The grand structure supported by 770 pillars will have an auditorium with a seating capacity of 770 people.
It is believed that 770 Sharanas (followers of Basaveshwara) led the Vachana reformist movement in the 12th Century.
On its top, the structure would have a Shiva Linga placed on a large pedestal.
The project also envisages state-of-the-art robotic system, open-air theatre, modern water conservation system, terrace garden, library, research centre, prayer hall, yoga centre and so on.