Daily Current Affairs for Government Exams:
Today Current Affairs: 9th November 2020 for UPSC IAS exams, State PSC exams, SSC CGL, State SSC, RRB, Railways, Banking Exam & IBPS, etc
Contents:
US Election
Ethiopia:
Advisory Committee on Administrative and Budgetary Questions (ACABQ):
Ecologically Sensitive Area (ESA) :
Social Reforms In U.A.E:
Other important current affairs
1.US Election: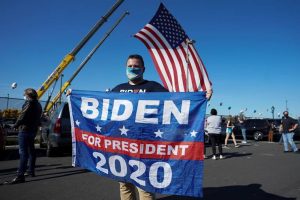 Joseph Robinette Biden Jr. has defeated Donald Trump to become the 46th US President.
Biden's running mate Kamala Devi Harris has become the first woman and first Indian- and African- American Vice President of the country. Biden and Harris will be sworn into the office on 20th January 2021.
The US has a Presidential System, whereas India has the Parliamentary System of Government.
There are several ways in which the US economy, its health, and the policy choices of its government affect India. Both the countries recently had 2+2 dialogue.
Impact on India:
Economic Relations:
Under the Biden administration, India's trade with the US could recover from the dip since 2017-18.
Trade Surplus: A recent analysis by experts of CARE Ratings (a credit rating agency) shows that over the past 20 years, India has always had a trade surplus (exports exceeding imports) with the US.
The trade surplus has widened from USD 5.2 billion in 2001-02 to USD 17.3 billion in 2019-20. Trade surplus had peaked at USD 21.2 billion in 2017-18 and has moderated to some extent.
In 2019-20, India exported goods worth USD 53 billion to the US – that's roughly 17% of all Indian exports that year and imported goods worth USD 35.7 billion in return – that's roughly 7.5% of all Indian imports.
Trade-in Services: India accounts for nearly 5% of the USA's services imports from the World.
Investment:
The US is the fifth-biggest source for Foreign Direct Investment (FDI – investment in the physical assets inside India) into India. Only Mauritius, Singapore, Netherlands, and Japan have invested more FDI since 2000.
The US also accounts for one-third of all Foreign Portfolio Investments (that is, investment in financial assets) into India.
H1-B Visa Issue: How a US President looks at the H1-B visa issue, affects the prospects of Indian youth far more than the youth of any other country.
Under President Trump, who severely curtailed the visa regime, owing to his policy of "America First", India had suffered the most.
H-1B visa is a non-immigrant visa that allows American companies to employ foreign workers in speciality occupations that require theoretical or technical expertise.
US' Generalized System of Preference: India's exclusion from the US' Generalized System of Preference (GSP) could come up for reconsideration under Biden.
In 2019, President Donald Trump had terminated India's designation as a beneficiary developing nation under the GSP trade programme after determining that it has not assured the US that it will provide "equitable and reasonable access" to its markets.
India was the largest beneficiary of the programme in 2017 with USD 5.7 billion in imports to the US given duty-free status.
GSP is designed to promote economic development by allowing duty-free entry for thousands of products from designated beneficiary countries.
US Presidential System
The US President is both the head of the State and head of the Government.
The lawmaking is done by the legislature (called the Congress in the US), but the President can veto any law.
The President and the Vice President are chosen by 'electors' through a process called the Electoral College.
The presidential candidate of each of the political parties chooses a vice presidential running mate.
Voters vote on the two—presidential and vice-presidential candidates—as a team.
The President can be removed for conviction of treason, bribery, or other high crimes or misdemeanor.
2.Ethiopia: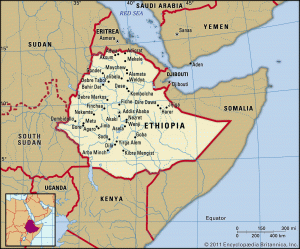 Ethiopia is on the brink of a civil war. A domestic conflict is going on in the country's northern Tigray region.
The structure of Ethiopia's federal system allows the country's ten regions significant autonomy. These regions also have their own parliaments, their own security forces, and the right to a referendum for independent rule.
Impact on the Horn of Africa:
Eritrea may be hardest hit, due to its proximity to Tigray.
If the violence and conflict spill outside Ethiopia's borders, it may potentially destabilize the Horn of Africa region.
The US and China have several strategic military bases in that region, the closest being Djibouti. If these military bases were to be impacted by the disturbances in any way, it may cause foreign powers to get militarily involved in the region and the conflict.
3.Advisory Committee on Administrative and Budgetary Questions (ACABQ):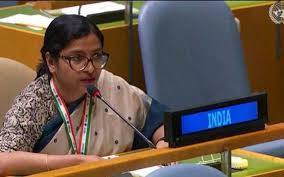 Indian diplomat Vidisha Maitra elected to U.N. ACABQ.
About ACABQ:
Advisory Committee is an expert Committee of sixteen Members elected by the General Assembly for a period of three years, on the basis of a broad geographical representation.
Members serve in a personal capacity and not as representatives of Member States.
The Committee holds three sessions a year with a total meeting time between nine and ten months per year.
The Chairman and Vice-Chairman of the Committee are elected by the Members of the Advisory Committee.
Functions:
To examine and report on the budget submitted by the Secretary-General to the General Assembly.
To advise the General Assembly concerning any administrative and budgetary matters referred to it.
Examines, on behalf of the General Assembly, the administrative budgets of the specialized agencies and proposals for financial arrangements with such agencies.
To consider and report to the General Assembly on the auditors' reports on the accounts of the United Nations and of the specialized agencies.
4.Ecologically Sensitive Area (ESA) :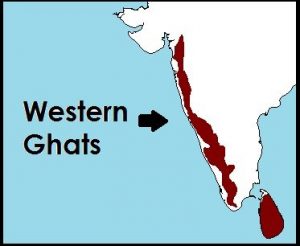 A Kerala-based NGO for farmers has moved the Supreme Court (SC) to declare the draft notification on the Western Ghats Ecologically Sensitive Area (ESA) unconstitutional.
It has sought a direction to the government to not implement the Madhav Gadgil and Kasturirangan committees' reports on the conservation of the Western Ghats.
The Western Ghats Ecology Expert Panel (WGEEP), also known as Gadgil Committee, and the Kasturirangan Committee, a High-Level Working Group, were constituted to conserve and protect the biodiversity of Western Ghats while allowing for sustainable and inclusive development of the region.
They recommended that identified geographical areas falling in the six States of Kerala, Karnataka, Goa, Maharashtra, Gujarat, and Tamil Nadu should be declared as ESA.
A draft notification related to the same was issued in 2018 mentioning the areas to be notified in the ESA.
Issues Highlighted by the Petition:
The draft notification would declare 123 agricultural villages in Kerala as ESA converting the semi-urban villages in the region into forests with no facilities and roads. It will affect 22 lakh people and cripple the economy of Kerala.
The Centre had wrongly branded people who had been residing in the Western Ghats area, as the "destroyers of the biodiversity and agents of ecological damage."
Apart from that, it suggested that ESA in Kerala should be restricted to reserved forests and protected areas.
5.Social Reforms In U.A.E: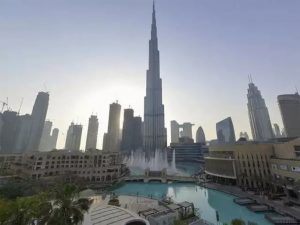 The United Arab Emirates announced a slew of legal reforms relating to personal freedoms that seek to move the country away from its hardline interpretation of Islamic law.
About:
The overhaul includes changes in laws related to honor killings, alcohol restrictions, cohabitation of unmarried couples, divorce, and succession.
Honor killings: Previously, under "honor crimes", male relatives could evade prosecution or get lighter sentences for assaulting women who purportedly brought "dishonor" to the family by acts such as disobeying religious scriptures or promiscuity. Such incidents would now be treated as similar to any other assault.
Harassment of Women: There would be stricter punishments for men who subject women to harassment, including stalking and street harassment. The rape of a minor or someone "with limited mental capacity" will be punished with execution.
Consumption of alcohol: Drinking alcohol has been decriminalized for those above 21 years of age, and penalties for possessing or selling alcoholic beverages without an alcohol license in authorized areas have been removed.
Unmarried couples living together: Cohabitation of unmarried couples" has been made legal for the first time. Previously, it was illegal for an unmarried couple, or even unrelated flatmates, to share a home in the UAE.
Divorce: For couples who were married in their home country but want to get a divorce in the UAE, laws of the country where the marriage took place would apply.
Suicide: The reforms decriminalize suicide and attempted suicide. Previously, a person who survived a suicide attempt could be prosecuted. However, this offense has now been removed and the courts and police are supposed to provide mental health support to vulnerable people.
Other important current affairs:
1.The National Legal Services Day is celebrated on 9th November every year to spread awareness for ensuring a reasonable fair and justice procedure for all citizens.
National Legal Services Day (NLSD) was first started by the Supreme Court of India in 1995 to provide help and support to poor and weaker sections of the society.
Free legal services are provided in matters before Civil, Criminal, and Revenue Courts, Tribunals, or any other authority exercising judicial or quasi-judicial functions.
Constitutional Provisions:

Article 39A of the Constitution of India provides that State shall secure that the operation of the legal system promotes justice on a basis of equal opportunity, and shall, in particular, provide free legal aid, by suitable legislation or schemes or in any other way, to ensure that opportunities for securing justice are not denied to any citizen by reason of economic or other disability.
Articles 14 and 22(1) also make it obligatory for the State to ensure equality before law and a legal system that promotes justice on a basis of equal opportunity to all.
2.Six blue or hyacinth macaws and two capuchin monkeys were released in the Assam State Zoo-cum-Botanical Garden in Guwahati.
Earlier, a large consignment of exotic animals was confiscated by the Directorate of Revenue Intelligence (DRI) in the same region.
Provisions Related to Illegal Wildlife Trade:

Illegally exotic animals are confiscated under Section 111 of the Customs Act, 1962 which is read with the provision of the Convention on International Trade in Endangered Species of Wild Fauna and Flora CITES and the Foreign Trade Policy (Import-Export Policy) of India.
Also, Sections 48 and 49 of the Wildlife Protection Act prohibit trade or commerce in wild animals, animal articles or trophies.

Concerns:

The possibility of spread of zoonotic diseases on account of smuggling in such exotic species is increasingly becoming a global concern against the backdrop of Covid-19.
Illegal wildlife trade was ranked the fourth largest transnational organised crime globally, after the smuggling of narcotics, counterfeit goods and human trafficking.
West Bengal and northeast India are vulnerable to cross-border wildlife smuggling because of their proximity to the Bangladesh and Myanmar borders, and to Thailand.
Many international organizations involved in wildlife crime use the Indo-Bangladesh Border for various other illegal activities, such as smuggling of drugs, commercial goods, and even gun-running, apart from the illegal movement of foreign currency.
2.Artists in Hyderabad are using traditional Warli art (Maharashtra) form not just to beautify Hyderabad, but also to create awareness on important issues.Warli is a traditional art form of Maharashtra.
Its roots can be traced to as early as the 10th century A.D.
These paintings are distinctive with their vivid contrast expressions.
These paintings are mainly dominated by basic geometric shapes like circles, triangles and squares.
These geometric shapes stand as a symbol of natural elements in our environment.
For example, the circles represent the sun and moon, the triangles represent the mountains and the squares are considered as the central motifs of the painting.
People and animals are represented by two inverted triangles joined together, where the upper triangle is the torso and the lower triangle is the pelvis.
The central theme of the paintings are scenes portraying huntin, fishing, farming, festival and dances, trees and animals are used to surround the central theme.
Warli art form is being used by many artists to beautify cities and spread awareness through wall paintings.
It is also being used to beautify bags, bed sheets and many other items.
Warli is the vivid expression of daily and social events of the Warli tribe of Maharashtra, used by them to embellish the walls of village houses.
3.The Haryana State Employment of Local Candidates Bill, 2020 has been passed paving way for more employment opportunities for locals in private sector.
Key provisions of the Bill:

Sectors to be covered: All the companies, societies, trusts, limited liability partnership firms, partnership firms and any person employing 10 or more persons and an entity, as may be notified by the government from time to time.
Exclusion: It shall not include the central government or state government or any organization owned by the central or state government.
Posts covered: Posts where the gross monthly salary or wages are not more than Rs. 50,000 or as notified by the government from time to time.
Exemption: The employer may claim exemption where an adequate number of local candidates of a desired skill, qualification or proficiency are not available.
The employer may be penalized with fine up to Rs. 5 Lakh for not following provisions of this Act.

Concerns expressed by experts:

Haryana's Bill may be in violation of Article 16. But, the Haryana government claims that while Article 16 talks about "public employment", the Bill only pertains to "private sector employment".
Besides, it may not be in the interest of the industry.
There are apprehensions that if Haryana implements this kind of reservation, other states will also follow the same and that shall result in "complete chaos".
Previously, Andhra Pradesh's decision of introducing a 75% reservation for local candidates was challenged in the Andhra Pradesh High Court which observed that "it may be unconstitutional".
4.Taking cognizance of the catastrophic food crisis caused by Covid 19 Pandemic and the urgency to tackle it, Food and Agriculture Organization (FAO) of the United Nations has launched a Food Coalition.
Alliance: Proposed by Italy and led by Food and Agriculture Organization, the alliance aims to increase resilience of agricultural food systems and ensure global food access.
Italy and the Netherlands have already pledged and delivered financial resources and technical support to the coalition.
The alliance would work as a network of networks and a multi-stakeholder coalition for a unified global action to ensure food access and increase the resilience of agricultural food systems in response to COVID-19.
The alliance involves a devoted trust fund and a web-based hub allowing participants to access a basket of project-focused information and data, as well as the funding and types of assistance needed for many on-the-ground projects.
Key Objectives of the alliance:

Mobilising resources, expertise and innovation
Advocating for a joint and coordinated COVID-19 response.
Promoting dialogue and exchange of knowledge and expertise among countries.
Working towards solution-oriented plans and programmes.
Expanding international cooperation and partnership for a longer term impact
5.Stanford University has recently released a list that represents the top 2 per cent of the most-cited scientists in various disciplines.
The exhaustive list has 1,59,683 persons.
1,492 Indians have found a place, with a majority of them being from IITs and IISc and other top institutes, representing fields like physics, material sciences, chemical engineering, plant biology, energy and others.
There are two Indian in the field of Inorganic and Nuclear Chemistry: Prof Gautam Desiraju, (ranked 2) and CNR Rao (ranked 3) close to the top.
6.The Uttarakhand Chief Minister has inaugurated Dobra-Chanthi suspension bridge in Tehri-Garhwal district.
The 440-metre long Dobra Chanti bridge is India's longest motorable single lane suspension bridge.
Built over Tehri Lake, it will cut travel time between Tehri and Pratapnagar districts from 5 5 to 1.5 hours.
Benefits of the bridge

Better connectivity within the region.
Boost tourism potential.
Gateway to development in the region.
Local employment promotion.

Tehri dam

Tehri Dam is the highest dam in India and fourth highest dam in the world.
It is around 260.5 metre high and 592 metre long. It is part of the Tehri Dam & Hydro Power Project (the multi-purpose river valley project) taken up for construction on River Bhagirathi to tap its vast potential for irrigation and hydro-electric purposes.
It is located in the Tehri district of Uttarakhand.

River Bhagirathi The river stream originates in the Garhwal Himalaya. The river after reaching Devprayag meets another headstream, the Alaknanda, forming river Ganga.
7.SICHUAN-TIBET RAILWAY
Chinese President Xi Jinping instructed officials to expedite the construction of the new USD 47.8 billion railway project connecting the country's southwest Sichuan province to Linzhi in Tibet close to the Indian border in Arunachal Pradesh, saying it would play a key role in safeguarding stability in the border areas.
The Sichuan-Tibet Railway will be the second railway line in Tibet after the Qinghai-Tibet Railway project. It will go through the southeast of the Qinghai-Tibet Plateau, one of the world's most geologically active areas.
The Sichuan-Tibet Railway starts from Chengdu, capital of Sichuan province, and travels through Ya'an and enters Tibet via Qamdo, shortening the journey from Chengdu to Lhasa from 48 hours to 13 hours.
Linzhi, also known as Nyingchi, is located close to the Arunachal Pradesh border.
The India-China border dispute covers the 3,488-km-long Line of Actual Control, the de-facto border between the two countries. China claims Arunachal Pradesh as part of south Tibet which is firmly rejected by India.