PMKVY – Pradhan Mantri Kaushal Vikas Yojana Details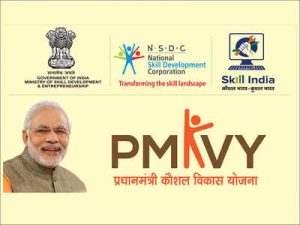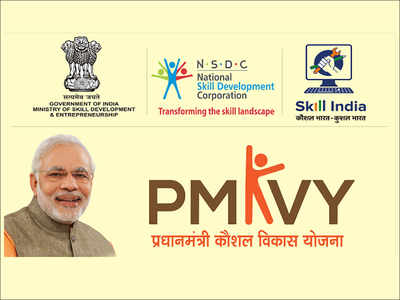 PMKVY (Pradhan Mantri Kaushal Vikas Yojana) is a skill development initiative scheme of the Government of India for recognition and standardization of skills. It is a flagship program of the Ministry of Skill Development and Entrepreneurship (MSDE). National Skill Development Corporation (NSDC) implements it with the help of training partners.
It aims to mobilize youth to take up skill training with the aim of increasing productivity and aligning the training and certification to the needs of the country.
Contents:
Background.
Aim.
Key components.
Implementation of the scheme.
Skill management development system.
Eligibility beneficiaries.
Fund allocation.
Current scenario.
Background:
Launched in 2015, it is a flagship program of the Ministry of Skill Development and Entrepreneurship (MSDE). National Skill Development Corporation (NSDC) implements it with the help of training partners.
Primary focus: Class 10 and 12 dropouts.
Phase II: Owing to the success of PMKVY 1.0 wherein more than 19 lakh students were trained as against the target of 24 lakh, the scheme was relaunched as PMKVY 2.0 (2016-2020) with an allocated budget of Rs. 12000 Crores that aims to train 10 million youth by the year 2020.
Under this Scheme, Training and Assessment fees are completely paid by the Government. Skill training would be done based on the National Skill Qualification Framework (NSQF) and industry-led standards.
Individuals with prior learning experience or skills will also be assessed and certified under the Recognition of Prior Learning (RPL) component of the Scheme. RPL mainly focuses on the individuals engaged in unregulated sectors.
The objectives of RPL are primarily three-fold:
(i) to align the competencies of the un-regulated the workforce of the country to the standardized National Skills Qualification Framework (NSQF),
(ii) to enhance the career/employability opportunities of an individual as well as provide alternative routes to higher education and
(iii) to provide opportunities for reducing inequalities based on privileging certain forms of knowledge over others.
Aim of the Pradhan Mantri Kaushal Vikas Yojana scheme: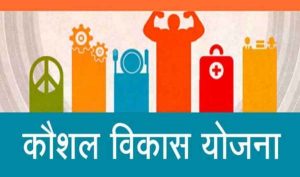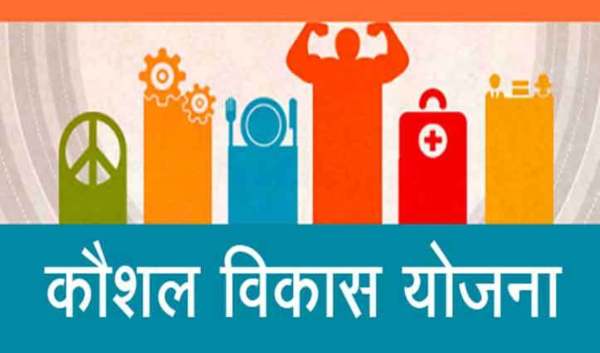 The aim of the PMKVY scheme is to encourage aptitude towards employable skills and to increase the working efficiency of probable and existing daily wage earners, by giving monetary awards and rewards and by providing quality training to them.
Developing Occupational Standards (NOS) and qualification packs specifically in various sectors of skills.
The scheme has a target to train 1 crore Indian youth from 2016-20.
Key components:
Short Term Training: Training as per National Skills Qualification Framework (NSQF) is provided to those who are either school/college dropouts or unemployed.
Recognition of Prior Learning (RPL): An individual with a certain set of skills or with prior learning experience is assessed and certified under RPL with grade according to the NSQF.
Special Projects: This component ensures training in special areas and premises of government bodies and corporate. It aims to encourage training in vulnerable and marginalized groups of society.
Training Partners (TPs) are mandated to organize Kaushal and Rozgar Melas every six months, thus providing placement assistance to certified ones.
Implementation of the Pradhan Mantri Kaushal Vikas Yojana scheme:
Implementing Ministry: Ministry of Skill Development and Entrepreneurship (through the National Skill Development Corporation).
The scheme would be implemented through National Skill Development Corporation (NSDC).
In addition, Central / State Government affiliated training providers would also be used for training under the scheme.
All training providers will have to register on the SMART portal before being eligible for participating under this scheme.
Training would include soft skills, personal grooming, behavioral change for cleanliness, good work ethics.
Sector Skill Councils and the State Governments would closely monitor skill training that will happen under PMKVY.
About National Skill Development Corporation: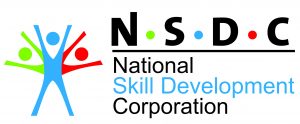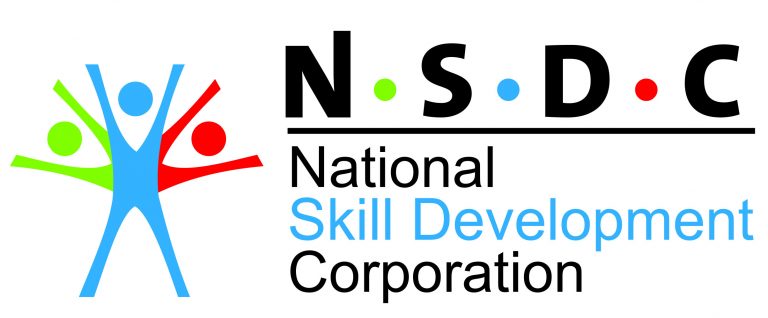 National Skill Development Corporation (NSDC) is a not-for-profit public limited company incorporated on July 31, 2008, under section 25 of the Companies Act, 1956 (corresponding to section 8 of the Companies Act, 2013).
NSDC was set up by the Ministry of Finance as a Public-Private Partnership (PPP) model.
The Government of India through the Ministry of Skill Development & Entrepreneurship (MSDE) holds 49% of the share capital of NSDC, while the private sector has the balance of 51% of the share capital.
It is a public-private partnership that supports the skills development ecosystem in India and funds effective private sector skills training initiatives.
NSDC aims to promote skill development by catalyzing the creation of large, quality and for-profit vocational institutions.
the organization provides funding to build scalable and profitable vocational training initiatives. Its mandate is also to enable support system which focuses on quality assurance, information systems and train the trainer academies either directly or through partnerships.
NSDC acts as a catalyst in skill development by providing funding to enterprises, companies and organizations that provide skill training. It also develops appropriate models to enhance, support and coordinate private sector initiatives.
NSDC had a target of skilling/upskilling 15 crore people by the year 2022. Also note that the new scheme, PMKVY is implemented by NSDC.
Skill Development Management System:
Skill Development Management System (SDMS) would be put in place to verify and record details of all training centers a certain quality of training locations and courses.
A biometric system and video recording of the training process would be put in place where feasible.
All persons undergoing training would be required to give feedback at the time of assessment and this would become the key element of the evaluation framework to assess the effectiveness of the PMKVY scheme.
A robust grievance redressal system would be put in place to address grievances relating to the implementation of the scheme.
An online citizen portal would be put in place to disseminate information.
Steering Committee
Steering Committee for PMKVY, constituted by MSDE will approve the process manual, provide broad policy directions and periodically monitor the performance of the Scheme.
The committee will oversee dynamic fixation of targets for skilling, job role-wise training cost, activities related to awareness building and trainee mobilization, and mentorship support, among other things
Eligibility beneficiaries of PMKVY:
The scheme is applicable to any candidate of Indian nationality who:
An unemployed youth, college/school dropout
Candidate needs to be a minimum of 18 years of age
The candidate needs to have an AADHAR card.
Candidate needs to have an auto-debit Bank of India account
Candidate needs to be availing of this monetary award for the first and only time during the operation of this Scheme.
Any other criteria as defined by the Sector Skill Councils for respective job roles.
College students should not be allowed or enrolled under PMKVY as the Scheme focuses on school/college dropouts. Additionally, in case of corporates or factory premises, candidates cannot be their own employees or daily wager
Funding:
PMKVY will follow complete transparent funding of skill training without any intermediaries and payouts will be directly transferred to the stakeholders' accounts.
An allocation of Rs. 12,000 crores have been made for the period 2016 – 2020.
Out of 4.06 million candidates that got enrolled between its relaunch and 24 January 2019, 3.73 million completed the course.
Certification Status: Candidates who score at least 50% of total marks are provided with certification. Nearly, 30% of those who enrolled between the above mentioned period have not been certified yet. This shows that even skill training is not enough for such people. This point towards the lack of proper basic education at schools and colleges.
Placement Status: Tracking of placements is mandatory under PMKVY. Till 26 October 2018, 1.94 lakh candidates got a certificate and out of them, only 55% got employed across different sectors. This shows the low employability level under PMKVY.
The new technologies to be covered under the widened PMKVY may include artificial intelligence, internet of things, big data, 3D printing, virtual reality, and robotics. This is in sync with Prime Minister Narendra Modi's vision of making India the skill capital of the world.
Third phase of the scheme:
The government is planning to launch the third phase of its flagship Pradhan Mantri Kaushal Vikas Yojana (PMKVY) in the next financial year, Minister of Skill Development and Entrepreneurship Mahendra Nath Pandey has said. The government launched the PMKVY scheme in 2015 and revamped it in 2016 to impart skills to one crore persons by 2020.
Official data:
According to official data, over 69 lakh candidates have been trained across the country under the PMKVY till November 11.
The Union skill development ministry has not spent its entire budget for the last three years and a key scheme to train people has achieved just 49% of its training target, a parliamentary panel report has said.
According to the report of the standing committee on labor, the Centrally Sponsored Centrally Managed (CSCM) component of the Pradhan Mantri Kaushal Vikas Yojana (PMKVY) "had a target to train 11,076,167 people, but only 5,761,570 could be enrolled out of which 5,446,975 could be trained."
Out of the roughly 5.5 million trained, only 4.2 million were satisfied and finally 1.3 million got jobs till July 2019, the report added.
After training over 1.9 million candidates in 375 job roles in the first year, the Union Cabinet extended the scheme for another four years (2016-2020) to impart skills to 10 million young people in the country with an outlay of Rs12,000 crore.
A third initiative is special projects, which provide skill-oriented training in specialized areas and jobs such as in prisons, juvenile centers. Some of these also include training with employment guarantee with textile associations and mortgage firms.