World Leprosy Day 2023: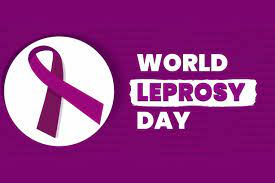 World Leprosy Day is observed on the last Sunday of January every year.
In India, it is observed on 30th January every year, coinciding with the death anniversary of Mahatma Gandhi.
The theme of World Leprosy Day 2023 is "Act Now. End Leprosy.
Leprosy is a chronic infectious disease caused by a type of bacteria, Mycobacterium leprae.
The disease predominantly affects the skin and peripheral nerves if left untreated, the disease may cause progressive and permanent disabilities.
The bacteria are transmitted via droplets from the nose and mouth during close and frequent contact with untreated cases.
The majority of annual new case detections are from South-East Asia.
It is a neglected tropical disease (NTD) which still occurs in more than 120 countries, with more than 200 000 new cases reported each year.
The Government Of India has launched National Leprosy Eradication Programme (NLEP) to make India leprosy free.
It is a Centrally Sponsored Scheme under the umbrella of the National Health Mission (NHM).
It is implemented in all the States/UTs.