100 Years Of Saka Panja Sahib: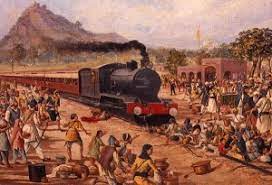 October 30, marks 100 years of the Saka Panja Sahib incident.
The gurdwara management bodies from both sides of the borderAmritsar-based Shiromani Gurdwara Parbandhak Committee (SGPC) and Pakistan Sikh Gurdwara Parbandhak Committee (PSGPC) will jointly observe the centenary of Shaheedi Saka Panja Sahib (martyrdom massacre), at Hasan Abdal city of Attock district, Punjab province of Pakistan.
On October 30, 1922 two Sikhs died and several other Sikh protesters, including women, were injured at Hasan Abdal railway station after the railway authorities under the then-British government refused to stop the train ferrying Sikh prisoners from Amritsar to Attock.
The Sikhs from nearby Panja Sahib wanted to serve langar (community kitchen food) to the Sikh prisoners but were told by the station master at Hasan Abdal station that the train would not stop at the station.
In protest, the Sikhs squatted on the railway tracks and as the train approached, the Sikhs, who were determined to halt the train, continued to stay put, demanding their right to serve langar to the Sikh prisoners.
The train finally came to a screeching halt, but only after crushing many of Sikh protesters of whom Bhai Karam Singh and Bhai Partap Singh died after sustaining serious injuries.
Since then, both Sikhs are hailed as martyrs of Saka Panja Sahib who sacrificed their lives fighting for rights of Sikhs against the British.