12-Foot Statue Of Adi Shankaracharya: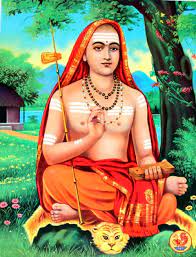 A 12-foot statue of Adi Shankaracharya has been unveiled at Kedarnath, where the acharya is believed to have attained samadhi at the age of 32 in the ninth century.
Adi Shankaracharya:
Born in Kaladi village on the bank of the Periyar, the largest river in
He was a disciple of the scholar
He was constantly on the move — bearing the flag of Advaita Vedanta, challenging prevailing philosophical traditions including Buddhism and Jainism.
He is believed to have established the ritual practices at the Badri and Kedar dhams.
Adi Shankara is generally identified as the author of 116 works — among them the celebrated commentaries (bhashyas) on 10 Upanishads, the Brahmasutra and the Gita, and poetic works including Vivekachudamani, Maneesha Panchakam, and Saundaryalahiri.
He also composed texts like Shankarasmrithi, which seeks to establish the social supremacy of Nambuthiri Brahmins.
Advaita Vedanta articulates a philosophical position of radical nondualism, a revisionary worldview which it derives from the ancient Upanishadic texts.
According to Advaita Vedantins, the Upanishads reveal a fundamental principle of nonduality termed 'brahman', which is the reality of all things.
Advaitins understand brahman as transcending individuality and empirical plurality.
They seek to establish that the essential core of one's self (atman) is brahman. The fundamental thrust of Advaita Vedanta is that the atman is pure non-intentional consciousness.
It is one without a second, nondual, infinite existence, and numerically identical with brahman.