13th Annual Day Commemoration Of The Competition Commission Of India (CCI):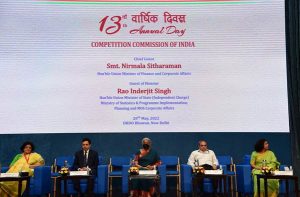 Finance Minister participated in the 13th Annual Day commemoration of the Competition Commission of India (CCI).
Finance Minister also inaugurated the regional office at Kolkata and launched an upgraded website of CCI.
Competition Commission of India (CCI) is a statutory body of the Government of India responsible for enforcing the Competition Act, 2002, it was duly constituted in March 2009.
The Monopolies and Restrictive Trade Practices Act, 1969 (MRTP Act) was repealed and replaced by the Competition Act, 2002, on the recommendations of the Raghavan committee.
The Commission consists of one Chairperson and six Members who shall be appointed by the Central Government.
The commission is a quasi-judicial body which gives opinions to statutory authorities and also deals with other cases.
The Chairperson and other Members shall be whole-time Members.
The Chairperson and every other Member shall be a person of ability, integrity and standing and who, has been, or is qualified to be a judge of a High Court, or, has special knowledge of, and professional experience of not less than fifteen years in international trade, economics, business, commerce, law, finance, accountancy, management, industry, public affairs, administration or in any other matter which, in the opinion of the Central Government, may be useful to the Commission.