India- Russia Annual Summit: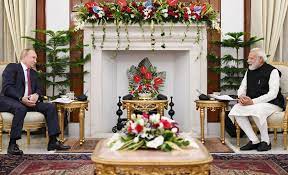 21st annual India-Russia summit was held recently. It was attended by Prime Minister Narendra Modi and Russian President Vladimir Putin.
Alongside, the inaugural 2+2 ministerial meeting was also held.
The meeting saw the signing of 28 agreements across sectors from defence to energy to space exploration, science and technology, heavy engineering, to trade and investment.
Russia's President Vladimir Putin extended an invitation to PM Modi to visit Russia for the 22nd India-Russia Annual Summit in 2022.
The two leaders expressed satisfaction at the sustained progress in the 'Special and Privileged Strategic Partnership' between both countries despite the challenges posed by the Covid.
The role of connectivity through the International North-South Transport Corridor (INSTC) and the proposed Chennai-Vladivostok Eastern Maritime Corridor figured in the discussions.
The two leaders looked forward to greater inter-regional cooperation between various regions of Russia, in particular with the Russian Far East, with India's states.
They agreed that both countries share common perspectives and concerns on Afghanistan and appreciated the bilateral roadmap charted out at the NSA level for consultation and cooperation on Afghanistan.
The completion of 5 decades of the 1971 Treaty of Peace, Friendship and Cooperation and 2 decades of Declaration on Strategic Partnership is symbolic of the long standing and time-tested India-Russia relations characterized by mutual trust, respect for each other's core national interests and similarity of positions on various international and regional issues.