Integrated Simulator Complex (ISC) Dhruv: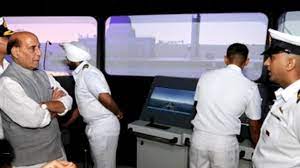 India's Defense Minister, inaugurated the Integrated Simulator Complex (ISC) 'Dhruv' at the Southern Naval Command in Kochi.
This cutting-edge facility is equipped with state-of-the-art simulators developed indigenously and is set to revolutionise practical training in the Indian Navy.
The simulators housed within the ISC 'Dhruv' will provide real-time experiences in navigation, fleet operations, and naval tactics, greatly enhancing the training process.
These simulators will also be utilised to train personnel from friendly countries, strengthening defence cooperation.
Among the simulators showcased, the Multi-Station Handling Simulator (MSSHS), Air Direction and Helicopter Control Simulator (ADHCS), and Astronavigation Dome garnered attention.
The ship handling simulators, exported to 18 countries, highlight India's prowess in simulator manufacturing, while the Astronavigation Dome, a first-of-its-kind in the Indian Navy, showcases the nation's innovative capabilities.