National Conference On Accessible Elections 2021: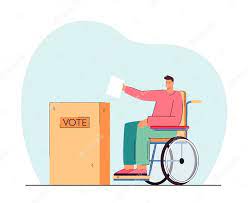 The Election Commission of India organised a virtual National Conference on Accessible Elections 2021 with the objective to assess the present accessibility policies and discuss strategies for addressing barriers to enhance participation in electoral process for voters with disabilities.
It was informed that about 77.4 lakhs PwDs are registered voters.
During the conference, Chief Election Commissioner Shri Sushil Chandra along with the Election Commissioners Shri Rajiv Kumar & Shri Anup Chandra Pandey released the following;
Crossing the Barriers- Accessibility Initiatives 2021. The Booklet is a compilation of innovative practices & accessibility initiatives for facilitating and empowering PwD electors.
Braille Language versions of recently launched initiatives like Voter Guide, Letter to the new voter, and a Song Booklet of 50 motivational songs on voter awareness.
Sign Language versions of two awareness videos of Voter helpline app and EVM-VVPAT
An evaluation study of Outcomes of SVEEP Activities and Facilities provided to PwDs in General Assembly Election 2018 & Lok Sabha Elections 2019 in Karnataka was also released by the Commission.