25-Year "Strategic Cooperation Pact: China And Iran: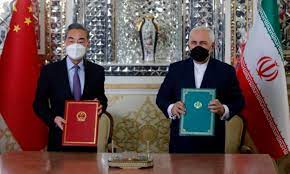 China and Iran have signed a 25-year "strategic cooperation pact" which includes "political-economic and strategic components".
The agreement comes amid a major push from China to back Iran to deal with the continuing weight of sanctions reinstated by the US after its withdrawal from the Iranian nuclear deal.
It will deepen relations between Iran and China and would establish a blueprint for "reciprocal investments in the fields of transport, ports, energy, industry and services."
It forms a part of China's trillion-dollar Belt and Road Initiative (BRI), a plan to fund infrastructure projects and increase its influence overseas.