284th Birth Anniversary Of Santh Sevalal Maharaj: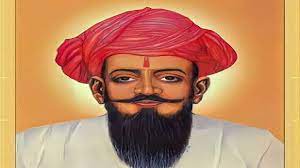 The Central government on Sunday (February 26) kick-started the year-long commemoration of the 284th birth anniversary of Sant Sevalal Maharaj, a spiritual and religious leader of the Banjara community. Union Home Minister Amit Shah led the celebrations on Monday in New Delhi and was joined by Union Minister of State for External Affairs and Culture Meenakshi Lekhi.
Banjara Community is made of various groups found throughout India and most of them are found in Telangana, Andhra Pradesh and Karnataka states in South India.
This community settled across the country with different names, have permanently abandoned their nomadic lifestyle and settled in their settlements called Tandas.
They speak Gor Boli also called Lambadi which belongs to the Indo-Aryan Group of Languages. Lambadi has no script.
Banjara people celebrate the festival of Teej during Shravanam (in the month of august).
In this festival young unmarried Banjara girls pray for a good groom.
Fire dance and Chari are the traditional dance forms of the banjara people.
Santh Sevalal Maharaj:
He is considered a social reformer and spiritual teacher of the Banjara community.
He travelled across the country with his Ladeniya Troup to serve especially the forest dwellers and nomadic tribes.
Due to his extraordinary knowledge, excellent skills and spiritual background in Ayurveda and Naturopathy, he was able to dispel and eradicate myths and superstitions prevalent in the tribal communities.