Coastal Red Sand Dunes: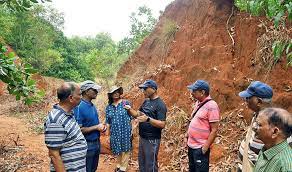 Geologists have suggested to protect the site of Coastal Red Sand Dunes, of Visakhapatnam, Andhra Pradesh.
The Coastal Red Sand Dunes is also known as 'Erra Matti Dibbalu'.
It is one of the many sites of Visakhapatnam, which have geological importance.
The site is located along the coast and is about 20 km north-east of Visakhapatnam city and about 4 km south-west of Bheemunipatnam.
This site was declared as a geo-heritage site by the Geological Survey of India (GSI) in 2014 and the Andhra Pradesh government has listed it under the category of 'protected sites' in 2016.
Such sand deposits are rare and have been reported only from three places in the tropical regions in south Asia such as Teri Sands in Tamil Nadu, Erra Matti Dibbalu in Visakhapatnam and one more site in Sri Lanka.
They do not occur in equatorial regions or temperate regions due to many scientific reasons.