The 43rd GST Council: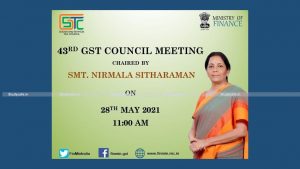 The 43rd GST Council met under the Chairmanship of the Union Finance Minister.
The GST Council has made the following recommendations:
As a COVID-19 relief measure, a number of specified COVID-19 related goods such as medical oxygen, oxygen concentrators, and other oxygen storage and transportation equipment, certain diagnostic markers test kits and COVID-19 vaccines, etc., have been recommended for full exemption from IGST.
In view of rising Black Fungus cases, the above exemption from IGST has been extended to Amphotericin B.
To support the LympahticFilarisis (an endemic) elimination program being conducted in collaboration with WHO, the GST rate on Diethylcarbamazine (DEC) tablets has been recommended for reduction to 5% (from 12%).
GST on MRO services in respect of ships/vessels shall be reduced to 5% (from 18%).
The Finance Minister also announced an amnesty scheme for small GST taxpayers, allowing filing of returns with reduced late fees.
the GST Council will hold a special session to discuss extending paying compensation to states beyond 2022.
Annual return filing has also been simplified. The Council has recommended amending the CGST Act to allow for self-certification of reconciliation statements, instead of getting it certified by Chartered Accountants.
GST Council:
It is a constitutional body (Article 279A) for making recommendations to the Union and State Government on issues related to Goods and Services Tax.
The GST Council is chaired by the Union Finance Minister and other members are the Union State Minister of Revenue or Finance and Ministers in charge of Finance or Taxation of all the States.
It is considered as a federal body where both the center and the states get due representation.