Maharashtra Bhushan award: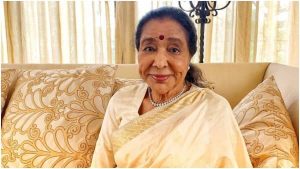 Legendary singer Asha Bhosle will be presented the Maharashtra Bhushan award for the year 2020, the State government's highest honour.
A committee headed by Chief Minister Uddhav Thackeray held a meeting earlier today in this regard.
The award, instituted in 1996 by the State government to recognize distinguished work and achievements of eminent persons from the State, representing different walks of life, carries a cash prize of ₹10 lakh and a citation.
Born on September 8, 1933, in Maharashtra's Sangli district, Ms. Bhosle was initiated into music by her father, the renowned Marathi stage actor-singer Dinanath Mangeshkar.
Bhosle received the Dadasaheb Phalke Award for 2000.
The first Maharashtra Bhushan awardee was Marathi writer P.L. Deshpande and the last winner of this award was historian Babasaheb Purandare who got it for the year 2015.
Her sister Lata Mangeshkar won the award for 1997.