Monkeypox Virus :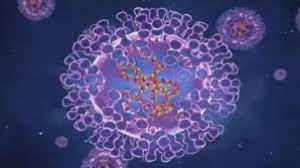 The U.K. health authorities have confirmed a case of monkeypox.
The first-ever recorded occurrence of the monkeypox virus in the U.K. was in 2018, and since then a handful of cases have been confirmed by health authorities.
The monkeypox virus is an orthopoxvirus, which is a genus of viruses that also includes the variola virus, which causes smallpox, and vaccinia virus, which was used in the smallpox vaccine.
Monkeypox is a zoonosis, that is, a disease that is transmitted from infected animals to humans.
Monkeypox virus infection has been detected in squirrels, Gambian poached rats, dormice, and some species of monkeys.
Monkeypox causes symptoms similar to smallpox, although they are less severe.
While vaccination eradicated smallpox worldwide in 1980, monkeypox continues to occur in a swathe of countries in Central and West Africa, and has on occasion showed up elsewhere.