4th Heli-India Summit 2022: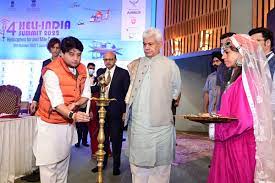 Minister of Civil Aviation, Shri Jyotiraditya M. Scindia recently inaugurated 4th Heli-India Summit 2022.
During the summit the Minister announced 3 new projects for enhancing the helicopter sector in the country which includes HEMS and fractional ownership.
Helicopter Emergency Medical Services (HEMS):
It is called Project Sanjeevani by deploying a helicopter in the next few weeks to provide emergency medical services at AIIMS Rishikesh.
The helicopter will be based at the hospital at 20 minute notice and will have a service cover to an area of 150 km radius.
Fractional Ownership Model:
It helps to grow the non-scheduled operations.
It will lower the barrier on the cost of acquisition of helicopters and airplanes through pooled capital by multiple owners.
This will allow companies and individuals to minimize their capital outflow by sharing the purchase cost, reducing their exposure to risks and making it financially easier to run a NSOP business.
Theme: 'Helicopters for Last Mile Connectivity'.