Conference On B20 Indonesia Global Dialogue: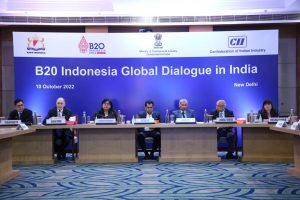 Department for Promotion of Industry and Internal Trade (DPIIT) recently hosted Conference on B20 Indonesia Global Dialogue in partnership with Confederation of Indian Industry (CII) in New Delhi.
The aim is to align the perspectives of Indian industry with the policy recommendations of B20 Indonesia.
This conference would set tone for the deliberations to ensure that the Indian perspectives are well represented in the policy recommendation of B20 Indonesia.
Business 20 (B20), formed in 2010, is the official G20 dialogue forum with the global business community.
B20 aims to deliver concrete actionable policy recommendations on the priorities by each rotating presidency to spur economic growth and development.