4th Quad Leaders Summit: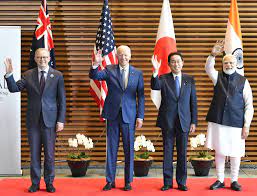 Prime Minister Narendra Modi has concluded his official visit to Japan for the 4th Quad leaders summit in Tokyo. This was the second in-person summit of the Quadrilateral Security Dialogue or Quad.
They announced the formation of the Indo-Pacific Partnership for Maritime Domain Awareness (IPMDA), which will build a "faster, wider, and more accurate maritime picture of near-real-time activities in partners' waters."
It will allow tracking of "dark shipping" and other tactical-level activities, such as rendezvous at sea, as well as improve partners' ability to respond to climate and humanitarian events and to protect their fisheries.
The grouping would enhance the sharing of data as a part of the "Quad Satellite Data Portal" that would enhance cooperation among the satellites of the member countries.
The summit welcomed the progress made regarding the J&J vaccine production at the Biological E labs in India under the Quad Vaccine Partnership.
The Quad is an informal multilateral grouping of India, the U.S., Australia, and Japan aimed at cooperation for a free and open Indo-Pacific region.