24th "Hunar Haat":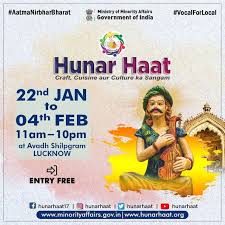 It is being organized in Lucknow (Uttar Pradesh) from 22nd January to 04th February, 2021.
Hunar Haat is an exhibition of handicrafts and traditional products made by artisans from the minority communities. The USTTAD scheme aims to promote and preserve the rich heritage of the traditional arts & crafts of the minority communities. It envisages boosting the skills of craftsmen, weavers and artisans who are already engaged in the traditional ancestral work.
Theme: Vocal for Local.
Organizer: These are organised by the Ministry of Minority Affairs under USTTAD (Upgrading the Skills & Training in Traditional Arts/Crafts for Development) scheme.
Aim: These Haat aims to provide market exposure and employment opportunities to artisans, craftsmen and traditional culinary experts.