First Summit Of The Leaders Of The QUAD: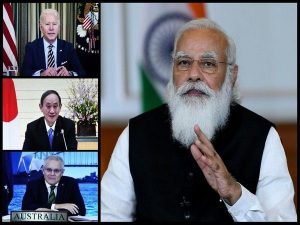 The Prime Minister addressed the first summit of the leaders of the QUAD (Quadrilateral Framework). The meeting was hosted by the USA on a virtual platform.
Earlier in February 2021, the QUAD ministerial meeting discussed issues across Indo-Pacific and the military takeover in Myanmar.
QUAD is a grouping of India, the USA, Australia, and Japan that aims to safeguard the interests of democratic nations in the Indo-Pacific region and address global challenges.
Focus: On pressing crises, such as Covid-19, climate change, and emerging technologies.
Pledge: QUAD pledged to promote a free, open rules-based order, rooted in international law to advance security and prosperity and counter threats to both in the Indo-Pacific and beyond.
Quad Vaccine Partnership:
Agreed to ensure "equitable" access to vaccines to counter the pandemic.
Agreed to a plan to pool their financial resources, manufacturing capabilities, and logistical strengths.
Japan, the USA, and Australia will finance the vaccine initiative that India has welcomed.
Appreciated the Vaccine Maitri initiative (India's Vaccine Diplomacy) of India.
Vaccine Maitri Initiative is an initiative launched by India to give Covid-19 vaccines to neighboring countries.
India's Stand:
QUAD is united by its democratic values and will remain an important pillar of stability in the Indo-Pacific region.
Called the meet an extension of the ancient Indian philosophy 'Vasudhaiva Kutumbakam', which regards the world as one family.
America's Stand:
QUAD is not a military alliance or North Atlantic Treaty Organization (NATO) equivalent, it is an opportunity to cooperate on economics, technology, climate, and security.
Maritime security, humanitarian, and disaster response are core to the QUAD agenda.
QUAD is going to be a vital arena for cooperation in the Indo-Pacific region.
Australia's Stand:
QUAD grouping could be the start of a new, permanent and powerful regional grouping of like-minded democracies.
Japan's Stand:
Acknowledged the new dynamism that QUAD has received because of the meeting of the top leaders of the member countries.
It will firmly advance its cooperation to realize a free and open Indo Pacific, and to make a tangible contribution to the peace, stability, and prosperity of the region, including overcoming Covid-19.