6th India-Canada Ministerial Dialogue On Trade And Investment: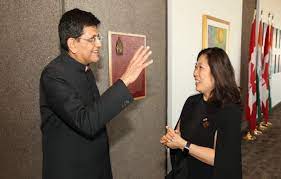 The 6th India-Canada Ministerial Dialogue on Trade and Investment (MDTI) was held in Ottawa, Canada.
The Canadian Minister expressed her support for India as the G20 Chair and its priorities in the G20 Trade and Investment Working Group.
She expressed her intention to participate in the upcoming G-20 Trade and Investment Ministerial meeting in India scheduled for August 2023.
The Ministers highlighted the importance of cooperation in sectors such as clean technologies for infrastructure development, critical minerals, electric vehicles and batteries, renewable energy/hydrogen, and artificial intelligence (AI).
The Ministers emphasised the importance of government-to-government coordination to promote critical mineral supply chain resiliency.
They committed to an annual dialogue at the official level during the Prospectors and Developers Association Conference (PDAC) in Toronto to discuss mutual interests.
The Ministers agreed to rework and relaunch the Canada-India CEO Forum with renewed focus and priorities.
The CEO Forum would serve as a platform to enhance business-to-business engagement and could be announced at an agreed-upon early date.
The Canadian Minister announced her leadership of a Team Canada trade mission to India in October 2023.
This mission aims to strengthen trade and investment ties, with a significant business delegation.