13th Ministerial-Level Meeting Of India –US Trade Policy Forum: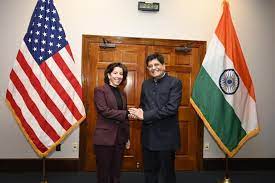 The Union Minister of Commerce and Industry of India and the US Trade Representative Ambassador co-chaired the 13th Ministerial-level meeting of India – US Trade Policy Forum (TPF) in Washington D.C.
The India-US TPF aims to activate its working groups in the fields of agriculture, non-agriculture goods, services, investment, and intellectual property to meet frequently and address issues of mutual concern in a mutually beneficial manner.
The idea is to deliver tangible benefits to both countries by resolving outstanding market access issues.
Highlights of the Meeting:
The US welcomed India's participation in the Indo-Pacific Economic Framework for Prosperity (IPEF).
Both the countries have like-minded views about the efficiency of IPEF for continued growth, peace, and prosperity in the Indo-Pacific region.
The Ministers welcomed the finalization of the Turtle Excluder Device (TED) design with the technical support of the National Oceanic and Atmospheric Administration (NOAA).
The TED will help in minimizing the impact of fishing on sea-turtle populations.
A new TPF Working Group on Resilient Trade was launched to help the officials deepen bilateral dialogue on a range of issues.