73rd Raising Day Of Territorial Army: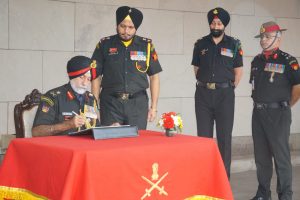 The 73rd Raising Day of Territorial Army was celebrated across the country on October 9.
It aims to commemorate its raising by the first Governor General C Rajagopalachari on this day in 1949.
The Territorial Army (TA) was raised by the Britishers in 1920 through Indian Territorial Act of 1920 and it was org into two wings namely – 'The Auxiliary Force' for Europeans & Anglo-Indians and 'The Indian Territorial Force' for Indian Volunteers.
After Independence Territorial Army Act was passed in 1948 and the Territorial Army was formally inaugurated by the first Indian Governor General Shri C Rajagopalachari on 09 Oct 1949.
The Territorial Army is part of Regular Army and its present role is to relieve the Regular Army from static duties and assist civil administration in dealing with natural calamities and maintenance of essential services in situations where life of the communities is affected or the Security of the Country is threatened and to provide units for Regulars Army as and when required.
Eligibility:

Any citizen between the age of 18-42 can be a part of the service.
The pensionable age for a soldier below officer's rank in the TA is the same as that of a regular soldier — 15 years.

The TA units were also actively involved in operations during the 1962, 1965 and 1971 wars.
Since 2020, the Indian military has been recalibrating the TA for better operational and intelligence roles, especially in the Andaman Islands to keep an eye out for possible Chinese intrusions in the region.
The motto of the Territorial Army of India is 'Savdhani Va Shoorta' (Vigilance and Valour).