Airbus A400M: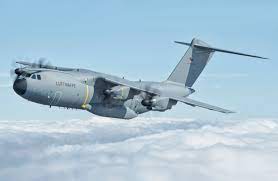 Aircraft manufacturer Airbus recently pitched its A-400M transport aircraft in response to the Indian Air Force's (IAF) Request For Information (RFI) for a Medium Transport Aircraft (MTA) with a carrying capacity of 18 to 30 tonnes.
Airbus A400M is a European-built military transport aircraft.
The aircraft is manufactured by Airbus Defence and Space, a division of the European aerospace and defence firm Airbus.
It combines the capability to carry strategic loads with the ability to deliver even into tactical locations with small and unprepared airstrips.
It can carry large cargo, vehicles, troops, and paratroopers or be configured for medical evacuation (MEDEVAC) missions.
A powerful turboprop engine that gives the A400M the ability to operate from short, unimproved airfields.
Maximum takeoff weight: 141 metric tons (309,000 pounds)
Maximum payload: 37 metric tons (41 short tons).
It can carry up to 116 fully equipped troops or 66 stretchers and 25 medical attendants. The cargo hold can take nine standard military pallets.
Range: 8,900 kilometres (5,530 miles)
Speed: 780 kilometres per hour (485 miles per hour)
The aircraft is equipped with in-flight refuelling capabilities.
The aircraft's independent navigation system comprises an inertial reference system (IRS) integrated with a global positioning system (GPS).
It features an advanced glass cockpit with modern avionics and control systems.