Abraham Accords: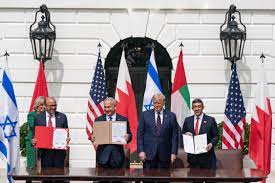 On 18 October, 2021, the foreign ministers of the United States, India, Israel, and UAE met virtually to enhance cooperation and partnerships between these states on the back of the Abraham Accords, signed in 2020, normalising relations between Israel and a grouping of Arab states led by the UAE.
The Abraham Accords are a joint statement between State of Israel, the United Arab Emirates, and the United States of America, reached on August 13, 2020.
Subsequently, the term was used to refer collectively to agreements between Israel and the United Arab Emirates (the Israel–United Arab Emirates normalization agreement) and Bahrain, respectively (the Bahrain–Israel normalization agreement).
The statement marked the first public normalization of relations between an Arab country and Israel since that of Jordan in 1994.
The agreement with the UAE was officially titled the Abraham Accords Peace Agreement: Treaty of Peace, Diplomatic Relations and Full Normalization Between the United Arab Emirates and the State of Israel.
The agreement between Bahrain and Israel was officially titled the Abraham Accords: Declaration of Peace, Cooperation, and Constructive Diplomatic and Friendly Relations, and was announced by the United States on September 11, 2020.
The accords are named after Abraham to emphasize the shared origin of belief between Judaism and Islam, both of which are Abrahamic religions that strictly espouse the monotheistic worship of the God of Abraham.