Daily Current Affairs for Government Exams:
Today Current Affairs: 9th October 2020 for UPSC IAS exams, State PSC exams, SSC CGL, State SSC, RRB, Railways, Banking Exam & IBPS, etc
Contents:
South Asia Economic Focus report
Special Accelerated Road Development Programme in North-Eastern Areas (SARDP-NE)
Pusa Decomposer:
Arctic Amplification or Arctic Warming.:
Assisted Reproductive Technology (Regulation) Bill, 2020 :
Nobel Prize in Literature 2020:
Graded Response Action Plan:
World Cotton Day:
Other important current affairs
1.South Asia Economic Focus report :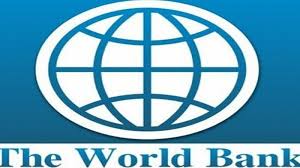 The World Bank released its South Asia Economic Focus report which estimated that India's Gross Domestic Product (GDP) can contract by 9.6% in 2020-21.
This estimate is way below the earlier forecast of 3.2% contraction, made in June.
Contraction of Indian Economy in 2020-21
The contraction is due to the impact of the national lockdown against the outbreak of the Covid-19 pandemic and the income shock experienced by households and small urban service firms.
The manufacturing and exporting industries are likely to be depressed, and the construction sector is also likely to experience a protracted slowdown.
This is due to a limited pipeline of public sector infrastructure projects and reliance on these industries on migrant workers who have not yet returned to cities where they worked.
Significant disruptions to jobs are likely to boost the poverty rate, with 2020 rates back to levels in 2016.
The biennial Poverty and Shared Prosperity Report was recently released by the World Bank which stated that Covid-19 can add around 27-40 million new poor in Sub-Saharan Africa and around 49-57 million in the South Asia region, causing over 1.4% of the world's population to fall into extreme poverty.
The demand slowdown could lead to rising loan non-repayment and risk aversion impacting the financial markets.
Other concerns include health care system capacity constraints, rising food prices, sharp drops in earnings of informal workers, impact on the MSMEs etc.
South Asian region:
The entire South Asia region may face its worst-ever recession.
The regional GDP is estimated to contract by 7.7% in 2020, which stayed above 6% annually in the past five years.
This recession will be different from previous ones as earlier downturns were mainly due to falling investment and exports but this pandemic-induced recession is due to a decline in private consumption.
Private consumption, which has been traditionally the backbone of demand in South Asia and a core indicator of economic welfare, will decline by more than 10%. This will spike poverty rates.
A decline in remittances is also expected to accelerate the loss of livelihoods for the poorest in some countries.
Other South Asian Countries: Countries like the Maldives, Sri Lanka are going to see a contraction in their economies while Pakistan, Bangladesh, Bhutan will witness slow growth in 2020-21.
The collapse of South Asian economies during Covid-19 has been the worst of all for small businesses and informal workers who suffer sudden job losses and vanishing wages.
2. Special Accelerated Road Development Programme in North-Eastern Areas (SARDP-NE) :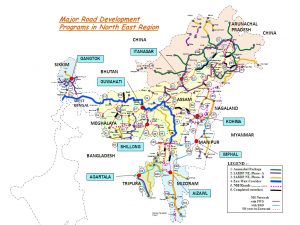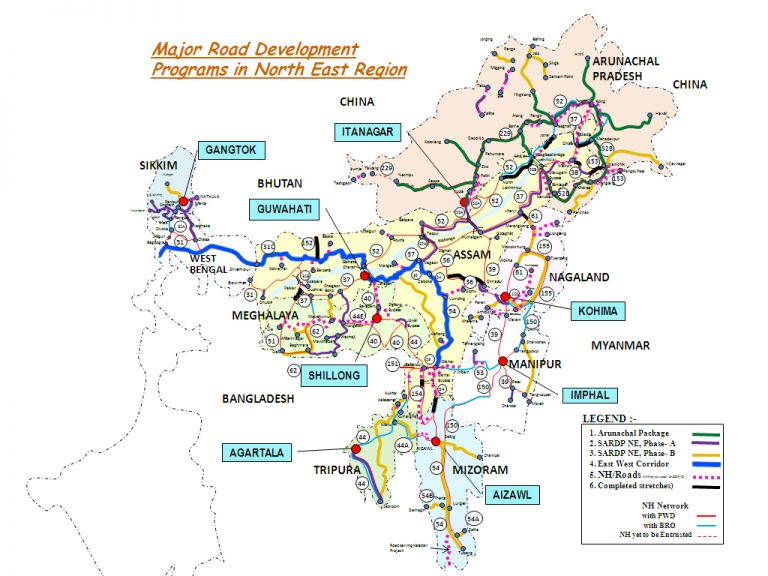 The Ministry of Road Transport and Highways has enhanced the allocation of funds for expenditure under Special Accelerated Road Development Programme in North-Eastern Areas (SARDP-NE) related works during the current financial year.
The government of India has undertaken a massive road development program under SARDP-NE Scheme in the NE Region.
The scope of the program has been enlarged from time to time, since September. 2005.
Under SARDP-NE (Phase –A and Arunachal Pradesh), 6418 km (5998 km actual design length) has already been identified for development at an estimated investment of about Rs. 30,450 crore, out of which 3356 km has been completed and 1961 km is under construction.
Objectives of SARDP-NE:
Upgrade National Highways connecting State Capitals to 2/ 4 lan
Upgrade National Highways connecting State Capitals to 2/ 4 lan
Improve roads of strategic importance in the border areas.
Improve connectivity to neighboring countries
3.Pusa Decomposer: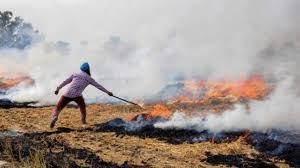 Union Environment Minister has said that the Pusa Decomposer will be used on a trial basis this year in Punjab, Haryana, Uttar Pradesh, and Delhi.
The burning of paddy stubble left in the fields after harvest has been a cause of concern for the past several years as it contributes to air pollution in the northern Gangetic plains and its already polluted cities like Delhi.
It is a common practice in October and November across northwest India, but primarily in Punjab, Haryana, and Uttar Pradesh to quickly clear crop residue from their fields before planting the rabi wheat crop.
Pusa Decomposer:
To tackle the issue 'Pusa Decomposer' capsule has been developed by Indian Agriculture Research Institute (IARI).
'Pusa Decomposer' is essentially a fungi-based liquid solution that can soften hard stubble to the extent that it can be easily mixed with soil in the field to act as compost.
This would then rule out the need to burn the stubble, and also help in retaining the essential microbes and nutrients in the soil that are otherwise damaged when the residue is burned.
There are seven strains of fungi that IARI has identified after research which help in the rapid breakdown of hard stubble.
These seven strains of fungi are packed into four capsules.
4.Arctic Amplification or Arctic Warming.: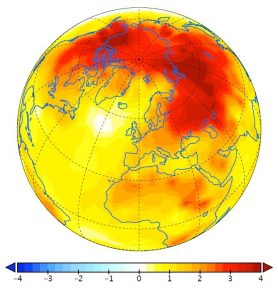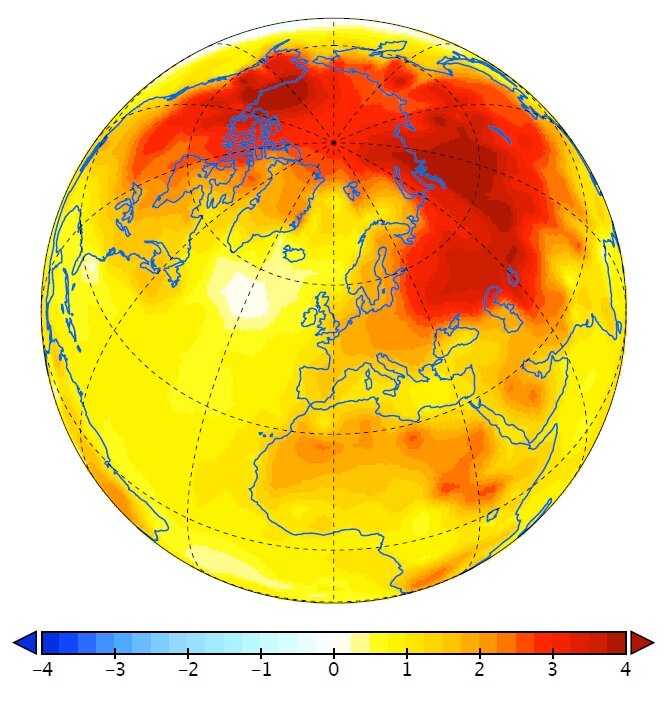 A team of scientists has identified iodic acid (HIO3) as a novel driver of new aerosol particle formation in the Arctic which is responsible for Arctic Amplification or Arctic Warming.
The presence of Iodic acid in the region had not been observed previously.
These aerosol particles influence the formation of clouds. As these clouds reflect solar radiation (known as Aerosol Radiative Forcing) but also retain heat on the Earth's surface, they have an influence on the warming of the Arctic.
Key Points
Over the past 30 years, the Arctic has warmed at roughly twice the rate as the entire globe, a phenomenon known as Arctic amplification.
This means that global warming and climate change are impacting the Arctic more than the rest of the world.
Global temperatures from 2000–2009 were on average about 0.6°C higher than they were from 1951–1980. The Arctic, however, was about 2°C warmer.
Scientists first started to see evidence of changes in the Arctic climate in the 1980s.
Since then, the changes have become much more pronounced.
Reasons:
Change in Albedo:

Albedo is a measure of how much light that hits a surface is reflected without being absorbed.
When bright and reflective ice (with more albedo) melts, it gives way to a darker ocean (lowering albedo); this amplifies the warming trend because the ocean surface absorbs more heat from the Sun than the surface of snow and ice.

Changing Ocean currents:

Ocean currents normally bring in warmer water from the Pacific, and colder water exits out of the Arctic into the Atlantic.

Changing Weather

Ocean currents drive the powerful polar jet stream, which moves hot and cold air masses around the Northern Hemisphere. This is a product of the temperature differences between the Arctic and the tropics.
5. Assisted Reproductive Technology (Regulation) Bill, 2020 :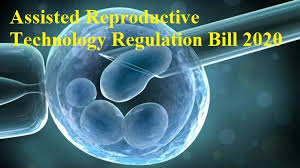 The Assisted Reproductive Technology (Regulation) Bill, 2020 has been introduced in the Lok Sabha.
Assisted Reproductive Technology (ART):
ART is used to treat infertility. It includes fertility treatments that handle both a woman's egg and a man's sperm.
It works by removing eggs from a woman's body and mixing them with sperm to make embryos. The embryos are then put back in the woman's body.
In Vitro fertilization (IVF) is the most common and effective type of ART.
ART procedures sometimes use donor eggs, donor sperm, or previously frozen embryos. It may also involve a surrogate carrier.
Aim of the Bill: To regulate ART banks and clinics, allow the safe and ethical practice of ARTs and protect women and children from exploitation.
Supplementary Status:
It was introduced to supplement the Surrogacy (Regulation) Bill, (SRB) 2019, which aims to prohibit commercial surrogacy in India.
The Bill designates surrogacy boards under the SRB to function as advisory bodies for ART.
Concerns
Discrimination in Accessibility:

The Bill allows for a married heterosexual couple and a woman above the age of marriage to use ARTs and excludes single men, cohabiting heterosexual couples, and LGBTQ+ individuals and couples from accessing ARTs.
LGBTQ+ stands for lesbian, gay, bisexual, transgender, queer (or sometimes questioning), and others. The "plus" represents other sexual identities including pansexual, intersex, and asexual.
The Bill seems to violate Article 14 of the Constitution and the Right to Privacy jurisprudence of Puttaswamy, 2017, where the Supreme Court held that "the sanctity of marriage, the liberty of procreation, the choice of family life and the dignity of being" concerned all individuals irrespective of their social status and were aspects of privacy.
6.Nobel Prize in Literature 2020: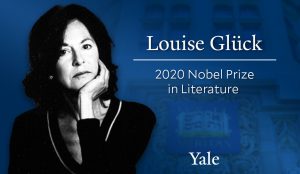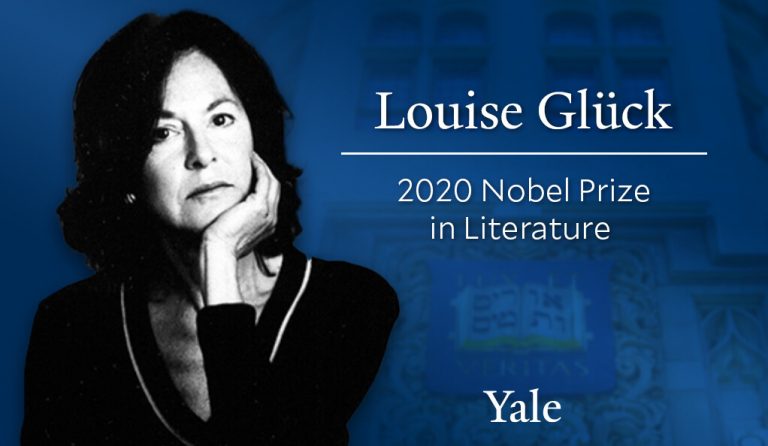 The Nobel Prize in Literature 2020 has been awarded to the USA poet Louise Glück "for her unmistakable poetic voice that with austere beauty makes individual existence universal."
Established by Alfred Nobel in 1895, the Nobel Prize in Literature is one of six awards that also span physics, chemistry, medicine or physiology, peace, and economic sciences.
For 2020, Nobel Prizes for Chemistry, Physics, and Medicine have already been announced.
The Nobel Prize comes with a medal and a prize sum of 10 million Swedish kronor.
Glück, born in 1943 in New York, lives in Massachusetts and is also a professor of English at Yale University.
Her poetry focuses on the painful reality of being human, dealing with themes such as death, childhood, and family life.
She is the fourth woman to win the prize for literature since 2010, and only the 16th since the Nobel prizes were first awarded in 1901.
The last American to win was Bob Dylan in 2016.
Glück won the Pulitzer Prize in 1993 for her collection The Wild Iris and the National Book Award in 2014.
7.Graded Response Action Plan: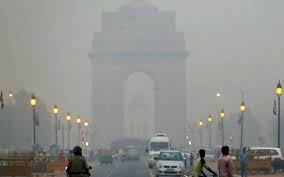 The Environment Pollution (Prevention & Control) Authority (EPCA) has directed Delhi and neighboring States to implement air pollution control measures under very poor and severe category air quality of the Graded Response Action Plan (GRAP) from 15th October 2020.
Graded Response Action Plan:
The action plan was formulated in 2016 and notified in 2017 for Delhi and the National Capital Region (NCR).
The plan was formulated after several meetings were held by Environment Pollution (Prevention and Control) Authority (EPCA) with state government representatives and experts.
These are institutionalized measures to be taken when air quality deteriorates, hence works only as an emergency measure.
GRAP includes the measures which will be taken by different government agencies to prevent worsening of Air Quality of Delhi-NCR and prevent PM10 and PM2.5 levels to go beyond the 'moderate' national Air Quality Index (AQI) category.
If air quality reaches the severe+ stage, GRAP talks about shutting down schools and implementing the odd-even road-space rationing scheme.
The plan requires action and coordination among 13 different agencies in Delhi, Uttar Pradesh, Haryana, and Rajasthan (NCR areas).
8.World Cotton Day: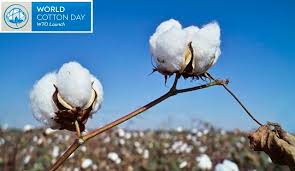 Second World Cotton Day was observed on 7th October 2020.
Key points:
On the occasion, the Union Textiles Minister launched the first-ever brand and logo for Indian cotton.
Now India's premium cotton would be known as 'Kasturi Cotton' in the world cotton trade.
The Kasturi Cotton brand will represent Whiteness, Brightness, Softness, Purity, Lustre, Uniqueness, and Indianness.
India is the 2nd largest cotton producer and the largest consumer of cotton in the world.
India produces about 6 million tons of cotton every year which is about 23% of the world cotton.
India accounts for about 51% of the total organic cotton production of the world, which demonstrates India's effort towards sustainability.
The event is organized in collaboration with the Secretariats of the :

United Nations Food and Agriculture Organization (FAO)
The United Nations Conference on Trade and Development (UNCTAD)
The International Trade Centre (ITC) and the
International Cotton Advisory Committee (ICAC).

This event stems from the Cotton-4's official application for the recognition of a World Cotton Day by the United Nations General Assembly.
Cotton- 4 Countries: Benin, Burkina Faso, Chad and Mali.
Other important current affairs:
1.New Development Bank, also known as BRICS Bank has approved infrastructure projects worth 741 million dollars in India.
Its Board of Directors approved a loan of USD 500 million for the Delhi-Ghaziabad-Meerut Regional Rapid Transit System (RRTS) Project and a loan of USD 241 million for the Mumbai Metro Rail II (Line 6) Project.
The loan for the Delhi NCR region would be used by the Government of India for on-lending to the National Capital Region Transport Corporation Limited (NCRTC) for the construction of a rapid rail corridor connecting the NCT of Delhi with the cities of Ghaziabad and Meerut in Uttar Pradesh.
The loan for Mumbai Metro will be used by the Government of India for on-lending to the Government of the State of Maharashtra for implementing a metro rail Line 6 with a length of about 14.47 km in the city of Mumbai. The Project will be implemented by the Mumbai Metropolitan Region Development Authority.
New Development Bank (NDB), the Shanghai-based bank, was established by Brazil, Russia, India, China, and South Africa to mobilize resources for infrastructure and sustainable development projects in BRICS countries and other emerging economies
2.The Central Mechanical Engineering Research Institute (CMERI) has transferred its High Flow Rate Fluoride & Iron Removal technology to Capricans Aqua Private Limited, West Bengal.
Technology is a Community Level Water Purification System which has a Flow-Rate capacity of 10,000 Ltr/hr.
It uses commonly available raw materials such as sand, gravel, and adsorbent materials.
It comprises a three-stage purification process that purifies water within permissible limits (1.5 parts per million (ppm) & 0.3 parts per million for Fluoride and Iron respectively).
The technology uses a combination of Oxidation, gravity settling (settling down of heavier impurities under gravity), and the Chemisorption process in an Affordable Package.
Chemisorption is a kind of adsorption which involves a chemical reaction between the surface and the adsorbate.
New chemical bonds are generated at the adsorbent surface.
The integrated backwashing technology will help in improving the shelf-life of the filtration media in a resource rationalized manner.
Backwashing refers to pumping water backward through the filter media, for the preventive maintenance so that the filter media can be reused.
3.The Mumbai Police has claimed about a scam about the manipulation of TRPs (Target Rating Points) by some TV channels by rigging the devices used by the Broadcast Audience Research Council (BARC) India.
The TRP is the metric used by the marketing and advertising agencies to evaluate viewership.
Anyone who watches television for more than a minute is considered a viewer.
It represents how many people, from which socio-economic categories, watched which channels for how much time during a particular period.
This period is one minute as per the international standards.
4.Britain's Prince William has launched a new 50-million pound Earthshot Prize, aimed at funding the most innovative solutions to some of the world's most pressing environmental challenges.
Theme: The Earthshot Prize is centred around five "Earthshots", simple but ambitious goals for the planet, which if achieved by 2030 will improve life for all, for generations to come.
It is said to be the most prestigious global prize for the environment in history.
Five Earthshots:

Protect and restore nature
Clean our air
Revive our oceans
Build a waste-free world
Fix our climate.

Awards Ceremony: It will take place in different cities across the world each year between 2021 and 2030, at which the five winners for each of the Earth shots will be selected from 15 finalists.
The first awards ceremony will take place in London in autumn 2021.
5.Union Education Minister virtually inaugurates Gyan Circle Ventures.
Gyan Circle Ventures are Technology Business Incubators (TBI).
Funded by the Ministry of Information Technology (MeitY).
Led by the Indian Institute of Information Technology, Sri City (Chittoor), Andhra Pradesh.
Gyan Circle Ventures would function as a Technology Incubation and Development of Entrepreneurs (TIDE 2.0) incubation center.
They will serve as a hub for innovation and startups by providing support, in various phases, via investments, infrastructure, and mentoring.
6.Andolan for COVID-19 appropriate behavior:
Launched recently by PM Modi in view of the upcoming festivals and winter season as well as the opening up of the economy.
He appealed to people to unite to fight Corona. He urged the people to always remember to wear a mask, wash hands, follow social distancing by maintaining 'Do Gaz Ki Doori.'
A Concerted Action Plan will also be implemented by Central Government Ministries and Departments and State Governments and Union Territories with Region-specific targeted communication in high case-load districts.