Poila Baisakh As State Foundation Day : West Bengal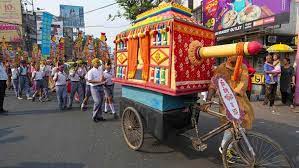 The West Bengal Legislative Assembly recently made a significant decision by declaring 'Poila Baisakh,' the first day of the Bengali calendar, as 'Bangla Dibas' or West Bengal Foundation Day.
A dispute emerged earlier in 2023 concerning West Bengal's Foundation Day when Raj Bhavan officially declared June 20 as the State Foundation Day.
The Chief Minister of West Bengal argued that June 20, which carries associations with the partition, lacks relevance to the state's establishment.
Also, the Assembly approved the proposal to make Rabindranath Tagore's 'Banglar Mati Banglar Jol' the official song of West Bengal.
Poila Baisakh is an important festival celebrated by Bengali communities across West Bengal, Tripura, Jharkhand, and Assam.
It is also celebrated in Bangladesh.
It signifies the Bengali New Year and in 2023 it was celebrated on April 15th.
On 20th June, 1947, the Bengal Legislative Assembly gathered to make a significant decision about Bengal's future.
They had three choices: keep Bengal whole within India, split it into East Bengal and West Bengal for Bengali Muslims and Hindus respectively, or divide it between India and Pakistan.
After significant rounds of voting, the decision was made to divide Bengal into West Bengal and East Pakistan (which later became Bangladesh) and the Radcliffe Line was drawn later to mark the boundary.